Roon Core Machine
Unraid Docker container, i3-11th gen, 16GB RAM
Networking Gear & Setup Details
WiFi & Ethernet, no VPN. Linksys Velop.
Connected Audio Devices
Number of Tracks in Library
28k tracks
Description of Issue
I'm doing a search for "MTV Unplugged" on my library, then clicking the button to only display what is in my library. It is getting some results, but not all. (note: there is no "More" button to indicate more results)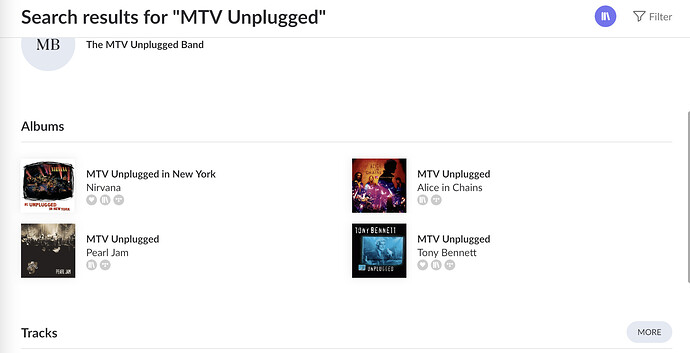 1 album specifically, is not being returned. It is titled "MTV Unplugged" by The Cure. This album is unmatched and has Live and Bootleg = Yes (because my version is not a match to what is in Roon's metadata sources). Is there something that excludes Live or Bootleg albums from showing in search results?