Clients Windows 10, Android
Server - Ubuntu 20.04 LTS
Everything is fully patched and up to date.
I have a sensible collection size along with a Tidal sub and I tend to search for things a fair amount but I get such hugely inconsistent result that.I am guessing I'm doing something wrong but I don't know what.
So a few of the things I've noticed.
A search item that briefly appears in my search ahead isn't in the list of results.
I often will be looking for a specific track by name and as I'm typing it into the search I will see the name of the exact track or file I'm looking for appear in the read ahead. Regardless of if I finish typing the full name or if I stop and hit enter the file is often not in the results page. Now if I'm quick enough I can sometimes click on it. Other times I only see a flash of it and it immediately disappears.
Search doesn't see files I know are in my collection and are indexed
But it's not just limited to my library. This search for "All the young dudes" by David Bowie/Mott the Hoople. Albums, Tracks, Artists all absolutely NOTHING to do with my search terms.
However if I then go and type in the exact same thing again to the filter for that search result I get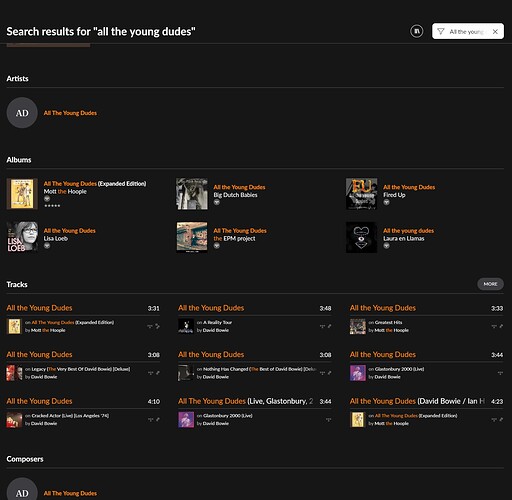 That's so incredibly counter intuitive!
This happens all the time - even typing in the exact name of the file it just doesn't appear or…
Search does show the file but it's buried under a whole load of "irrelevant" results.
This is particularly clear when I click "more" on Tracks after getting the result from the first picture. This I think is caused because it lists local files first followed by Tidal files but as it's returning nonsense answers for my local files the "exact" Tidal results are getting buried until right at the end of the list.
It's a complete mystery why it works like that. I've gone through all the settings and I can't see any way to tweak any of that but admit I might have missed it.
So what am I doing wrong? Why doesn't search work how I expect it to? Why is it returning loads of results that have nothing to do with what I'm searching for? Why do I only get the "obvious" results when I apply a filter?
Thanks in advance
G