Imported CD, Bellini's Norma, 3CD set, Callas, Correlli, Ludwig, Serafin, on EMI Classics.
Track names that show up on the album screen are weird "No. 3b, Meco all'altar di Venere (Cavatina)" followed by "Act 1. Scene 1. Odi? … " which is to say, only a handful of track names have Act and Scene. Note that these are Tracks 4 and 5 on the first disc in the set. (Here's what the track listing looks like:)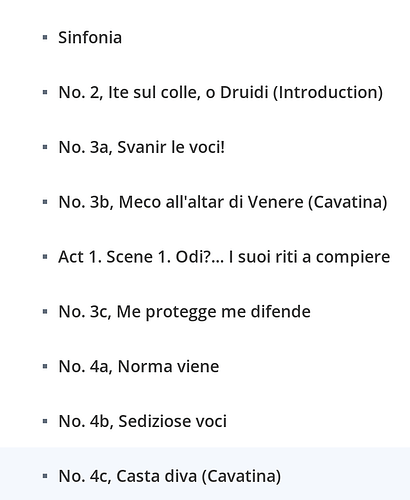 (FYI, Act 1, Scene 1 actually starts with the second track.) So, go in and edit, right? But when I try to edit the track names, I see something quite different: "Norma: Act 1, Scene 1. Meo all'altar di Venere (Cavatina)" for the Roon data, "Bellini: Norma: Act 1: … " for the file data:

Neither has this "No. 3b," business. (Track # in metadata is "4".) I've chosen to display the Roon data, but I've also tried editing the titles in "edit track." Under "Metadata Preference" I've tried several choices but it doesn't seem to "take"; which is to say, when I look at it again after saving changes, the choices are unchanged.
Ideally, this would be displayed something like this:
Sinfonia
Act 1
Scene 1
(Track 1 title–no numbers)
…
and so on. but that may be asking a bit much. I'm really just looking for consistency; if the act number and scene number is going to show up on some tracks, shouldn't they show up on all?. Again, there's only a weak correlation between what I see when I try to edit track info and what I see on this screen. Editing via the Roon interface doesn't seem to be working.