The same in "tracks" IPad Pro 11'
Also not able to login to Tidal (Qobuz is normal)
I have the same problem with settings on Windows. The settings are fine on macOS.
Selecting Settings on the menu crashes Roon 1.8 on my iPad running iOS 14.4 which is very annoying. Please fix that bug ASAP. Thank you.
I also have noticed that there is a mismatch between sample rate in what Qobuz says and what the Signal Path says. I have not found it in other albums, but it happened with Santana's Abraxas (Qobuz version).
Look at the capture: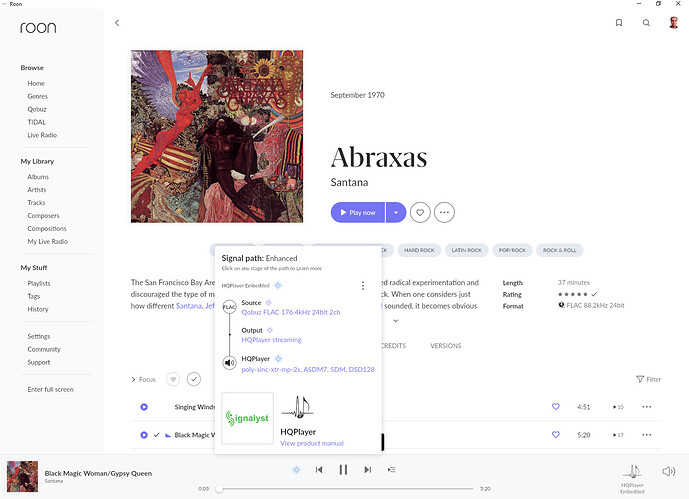 There is a workaround for this. it worked on my ipad AIR
Reinstall the app
Keep language on English from ROON
Keep system ipadOS language on English
Problem solved
The issue is with a Windows computer, I barely use the app on my smartphone. Besides, I still could change settings from my macOS device if I would need it

Thanks anyway, pal!!
Hi there,
I have the same issue on Windows 10 (19042.276). Surface laptop 3. I am looking forward to a fix.
I am using both Tidal and Qubuz. Artist pages are sometimes slow getting all the information. For example: Testament
Edit: for a positive note. I like the new GUI and the recommendations are far better!
P.S. For the ones that posted screenshots, beware that your account/e-mail address is visible.
For now i changed my windows language to english (from german) and keyboard setting back to german then.
roon settings on PC work again with this solution.
Hope, they find a better solution in a few days, i like my windows in german

The new version is ok for me, but too much white everywhere on my big display. Dark Mode is too dark for me, too much contrast.
I would like to have a possibillity to adjust the backgroundcolour in roon a bit. Would preffer a light grey or something better for my eyes.
same here
on iPad Air 3 > settings > crash. Disappointing!
I can confirm this is the Issue. I changed my keyboard settings in Windows from English (Netherlands) to English (United States) and restarted Roon. Now the Settings in Roon are working as normal. Change it back and it won't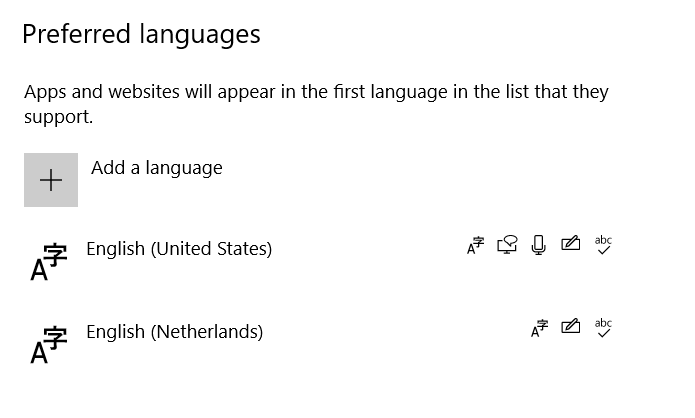 Hi, same for me. iOS 14.4 on iPad Pro and iPad Air (2019). By choosing settings the app crashes. My workaround is using an Android device.
Thanks @Leon_van_der_Koelen, this works for me too in The Netherlands, let's hope for a quick fix.

I have an 2018 iPad Pro with latest updates and roon app crashes the moment you open the app. Instantly.
I've installed my windows using English system language as well. However in regional setting I'm using 'English (Nederlands)'. Changing this to 'English (United Kingdom)' and restarting Roon brought back the settings. However now my dates and decimal/thousand seperators are all in formatted UK style.
Regional settings remains a challange in software development (I used to work for a Canadian software company, and we always had these issues when releasing new versions).
same problem, no setting details appear (accept GENERAL) on Windows and Ipad, however its working on the iphone (14.4).
Welcome to the beta test. Unfortunately, even with Windows 64bit (German), the first tab (general) can only be reached with the setting. On the iphone with ios 14.4 crash in Settings → Info and in Settings → Web Ads.
I find the workaround with the conversion of the entire operating system unreasonable.
I even find the new Roon 1.8 generally more confusing than 1.7.
I have this issue as well, but I have seen here on the forum that Roon developers are aware of this and they are working on a solution. Until there is an update that fixes this bug, I am able to use settings when I use Roon Remote from my phone iOS. I can live with that until there is an update that solves this issue. Best of luck to Roon dev, to find a solution to this and to roll it out.
The same for me switching between Italiano and English (United States).
I have three Win 10 PCs in my network and after changing Win 10 language to English only on one of them, Settings are properly displayed on the other two PCs with Windows language set to Italiano and Roon language set to English and also with Roon language set to Italiano (only few translation lacks…)
Everything OK from first download on Android devices (Samsung S9 and Samsung Tab S4)