Core Machine (Operating system/System info/Roon build number)
Roon Ver 1.6 build 416
HTPC
Asus Strix B450I (mini-itx)
Ryzen 3400G
ADATA SU800 2TB SSD
XPG SX6000 Pro 512GP NVMe
G.Skill Ripjaw 2x8 DDR4 PC4-25600 3200Mhz (F4-3200c16d-16VKB)
Noctua NH-L125
Seasonic Focus SGX-450
Windows 10
All drivers current
All OS updates current
Network Details (Including networking gear model/manufacturer and if on WiFi/Ethernet)
HTPC connected to Netgear GS308v2 8port switch
Oppo BDP-105D connected to same switch.
The switch connects to Apple Airport Extreme (recently updated) then to a Linksys Cable Modem.
Audio Devices (Specify what device you're using and its connection type - USB/HDMI/etc.)
ModWright OPPO BDP-105D via USB (Schiit PYST 1 Meter cable)
Tried USB 2.0 and 3.0 on PC. same result.
Description Of Issue
JRiver Media Center 25 works fine with CD's ripped to FLAC - with High Rez Flacs from HD Tracks, and DSDs from several sources.
Tidal also works fine.
From a total power up (audio & pc)
after powering up system - I launch Roon - go to Setup-Audio and I see this: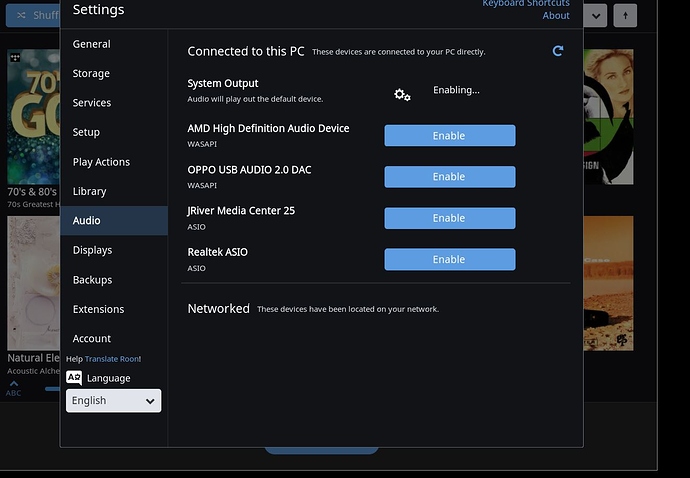 By the time I close the snip tool I get this: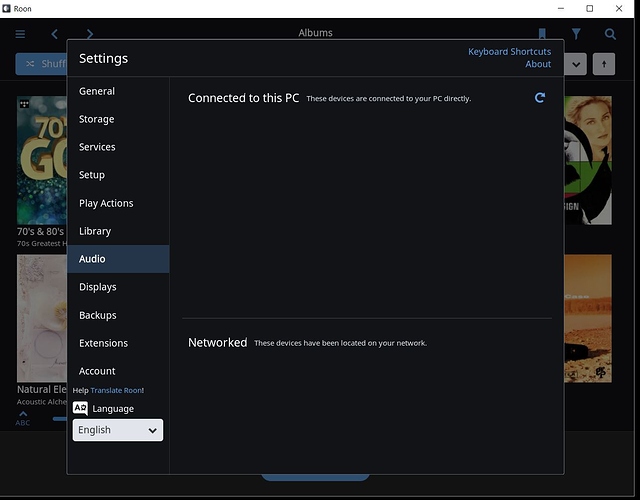 (and every time I've tried this - I get this screen for maybe 5-8 seconds) This screen only shows up after Resetting the DAC.
Before I can even really read the screen - it clears and leaves me with nothing.