A few surprises !
One surprise is the Artist metadata for Max Richter's "Sleep", seems to need some work.
Good thread idea… I don't know how many of us there are, but I enjoy the Roon-LastFM linkage; Works for me because I run core on a desktop but it provides some of the history functionality people are asking for in Roon itself.

I'm also a big fan of 'Associated Performer'!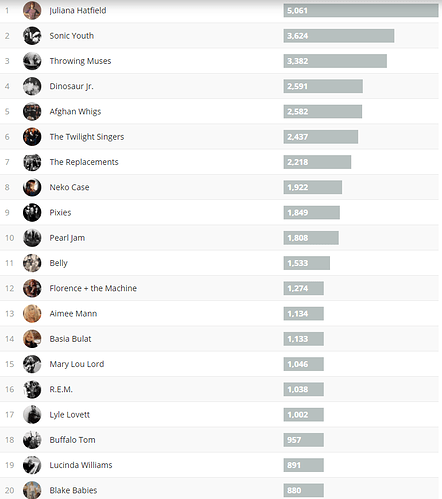 My data from the last couple of years. The Roon Radio effect is definitely reflected in the data. For example, while i certainly listen to a lot of Juliana Hatfield, I would bet at least 2/3rds of the scrobbles from her are plays via Radio compared to Sonic Youth where i'm quite certain 99% of those from me clicking play. It makes sense as she'll show up as a related artist for pretty much everyone else on my list, but she certainly does get chosen often.
In the image below I have never once clicked play on the Gold Star's greatest hits album, so all the plays there are certainly from Radio. Same goes for Neko Case and Ryan Adams, who just missed the cutoff. it seems no matter the artist i seed the radio with one of those three if not all will at some point make it into the rotation.
As long as you enjoy the music your are listening to. Being 'cutting edge' is not a value in and of itself.