Nice! Maybe get a red one next time?
Yup. Not a 12-string in sight!
Ever since @7NoteScale 's great posts and links about how well made the SE line of PRS is I've been thinking I need to dip my toe on that pool. I've been keen to give the "Wide Flat" neck a go. No place close to try one and I'm crazy busy so would probably buy one online.
I've gone back and forth on a few models…even trying to convince myself that maybe a S2 is "needed" over an SE. Right before XMas I had pretty much convinced myself it was the Hollowbody II Peizo that was going to scratch my itch. I liked the peacock blue way better than the brown. Today I discovered a new color is out for 2023. Dog Hair, basically black but a cool looking black.
Peacock Blue is Maple top and bottom with Mahogany for the rest. Doghair is all mahogany. Genuinely looking for your thoughts on both. Am I just digging the black because it is new/different. I'm typically drawn to black but this one is kinda cool. What do you all think?
Click the black images for better idea of finish. Site resizes…as I'm sure most of you know.
Not having read your post first, I thought the blue guitar looked stunning.
Had I need to choose that would be what I grabbed.
PRS naming their guitars "Private Stock", "wood library" and then…Core, CE, S2, SE…is all rather confusing.
The hollow body has much to offer including being able to noodle with it acoustically. I have one that I need to photograph. I too like black…and blue…and sunburst…and…
I fear I may have uploaded this before; hope not. It is the Rosewood Edition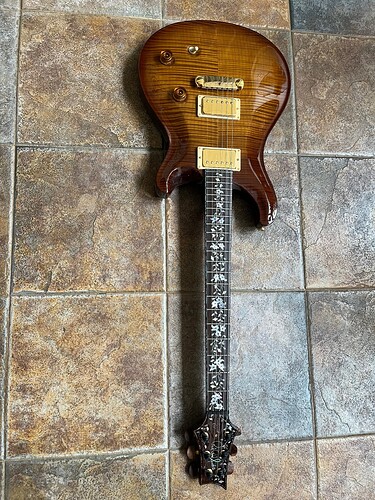 My Hollow Body has piezo electronics and was a NAMM Display Guitar back in the day.
I believe that most are impressed by the quality control of all lines of PRS. I have never bought from Sweetwater. I used to buy from Washington Music Center when Paul worked early in life.
Sweetwater has this inspection process which appears to assure the buyer of a quality instrument.
The David Grissom Signature (DGS) SE models have been getting good reviews.
Hey @7NoteScale, just wanted to put in a personal good word for Sweetwater (I'm not speaking for Roon, just sharing my own experiences), they're about the only big gear retailer I trust these days. Great folks with top-notch customer service. If you have a problem without anything they'll get it fixed pronto.
I have to 2nd jamie's

for sweetwater. They have been really friendly and knowledgeable.
edit: I haven't dealt with them on guitars, but, on keyboard stuff.
Chuck Surack sold Sweetwater to Providence Equity Partners back in 2021. When my kids were younger, we would buy many instruments from a young man who worked at Sweetwater. It was always a great experience. Of all the guitars I own, I never purchased one from Sweetwater (but I would). If anyone has not seen the YouTube videos of the tour of Sweetwater…please do…it is an amazing concept and Surack has well deserved success.
PRS appears to be in a very consistent pattern of making SE versions (in Indonesia) of signature guitars like the John Mayer, David Grissom…and that likely will continue. They have a financial and quality formula that advances the company despite the recession that impacts others.
So are there any Gold Foil pickup fans out there? Fender's got most in their lineup minus the Stratocaster covered with a new Limited Edition. I'm digging the Candy Apple Burst Jazzmaster…I'm usually not a burst fan. But this one is a looker with the red tortoise pickguard. @AceRimmer there is a gold JM to keep your new gold beauty company. From memory I think you are not a fan of offsets. Might need to make an exception for this one. One word…Bigsby!
Well I sold two axes…and bought two axes…lol
I had a hankering for a 7 string for a while and got chance to try one in Guitar Center and I was very surprised at how relatively easy it was to play so…
It still had to be relatively cheap as no idea if I will stick with but also had to be nice enough to enjoy.
This popped up on Reverb…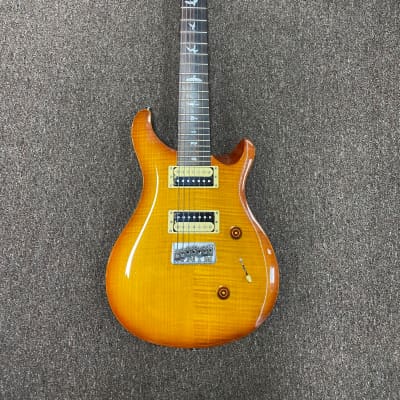 And the second one is…
Fender Modern Player Telecaster.
I had been watching this on Reverb for a while and the price just kept dropping and dropping…until I could not stop myself…lol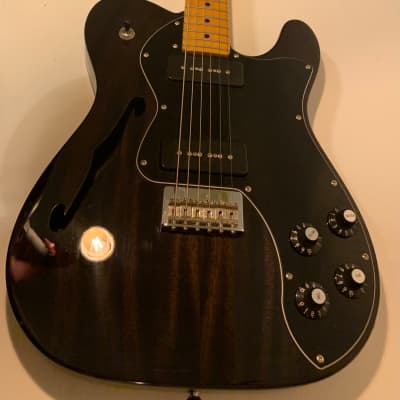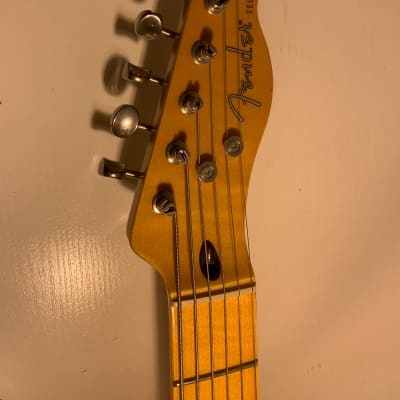 Couple of very nice specimens there! Would love to get a PRS - a good mate back in the UK had a Custom 24 for a while, a supremely gorgeous instrument.
Love them both. Congrats! Do you need another finger to play it? What two did you cut loose?
We should all be buying and selling between us here and saving the Reverb fees



Or some sort of CoOp where every 6 months we send one of our guitars to another member. You get to play them and live with them but always something new coming in and going out.
I sold a pedal on Reverb recently and was shocked how little I netted. I knew they raised the rates from 3 (maybe 3.5) to 5, but that is not the entire story. Still slightly better than ebay. I guess the plan should be to buy and not sell.
The PRS 7 neck is only slightly fatter than my PRS 6 and is quite fast and I admit to being surprised.
I sold that Chinese Aria I bought on the flea Market and one of my daughters Schecter as she asked me to cut her collection down.
So it's two sold tongue in cheek as only one was really mine.
But I still got the same wall space afterwards so it's all good.
Thank you, he is a hero of mine.