Nice to see another Ubiquiti Networks user. I'm always as fascinated by the network infrastructure as the Roon systems on these posts!
Hi, @ged_hickman1
I didn't pay what they cost!
Only 1000€
I can arrange a unpackaged pair of the V1 FIVE • 5 Black Piano Lack,
(The same as mine) for 1500€ + shipping cost!
Send me a PM if you or someone else is interested!
Love & Respect
String
Had my Roon Nucleus taken upstairs to my office and connected it via Ethernet to an access point and from there via Ethernet to my Devialet. Fired the thing up, chose my audio zone, and voilà, the Nucleus streams now via Ethernet to my Devialet.
I like this setup as the volume setting on my iPad is identical to the one displayed on my Devialet. Therefore, I hardly need the Devialet's remote any more!
I have to listen a lot longer to judge SQ, but to me it looks as if channel separation is a bit better via Ethernet than USB. I like what I'm hearing, but again, I need to listen a lot more carefully to pinpoint differences between Ethernet and USB.
Will send pictures later. So thanks for the suggestion to try out Ethernet!
The access point to which the Nucleus is connected to: the Ethernet cable from the router feeds into the access point, that has two Ethernet cables running to the Nucleus and the Devialet Ethernet port.
Works flawlessly, and I do like the sound! Again, channel separation is a tad better, but very clearly, the bass has improved. And I do like of not having to use the clunky, although stylish, Devialet remote. I like the setup!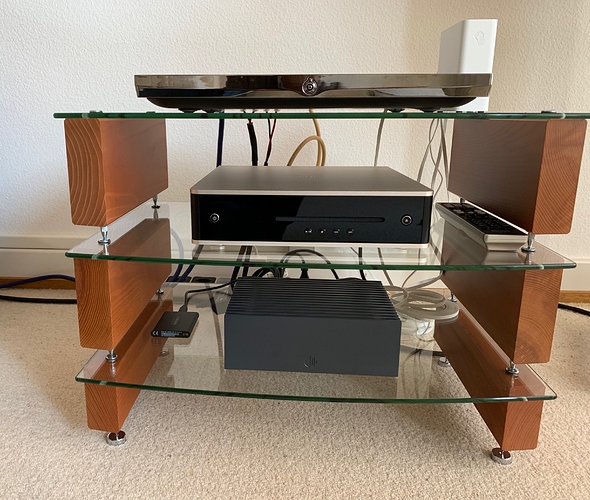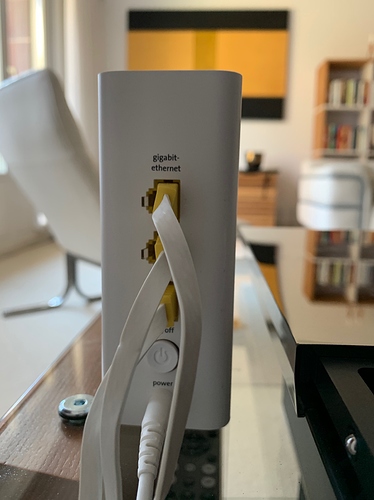 @jussi_laako 's HQPlayer Embedded doing it's thing further upstream?
Is it Embedded in your Roon Core or?
I just wonder if it's that or some other place?
The THX 789 Headphone Amp is it possible to buy it somewhere else than at Massdrop? How much does it cost?
Your RCA-to-XLR Interconnects custom made Belden 1804A (silver plated) using John Swenson's shielding method (for those of you playing at home). Neutrik connectors on both ends. How much does they cost?
There can I buying/order them from?
I'm asking you about this things because it's sounds interesting to try!
So please answer me here please or send me a PM.
Love & Respect
String
The good news is that the THX AAA 789 is fabulous, and it cost $349.
The bad news is that it was made for Massdrop, not available anywhere else, and they made 490 of them and they are all sold. We can hope Massdrop will make more, after the very enthusiastic reception. You can register for a notification if it becomes available here, see also this note from THX.
Benchmark has a headphone amp and a big power amp based on the same THX technology. But the HPA4 headphone amp is $3,000.
Hi Anders S! I'll send you a PM later today/tomorrow! Great to see you back active here again and enjoying the music and this fun hobby.
Hi Anders V! Your numbers always need correcting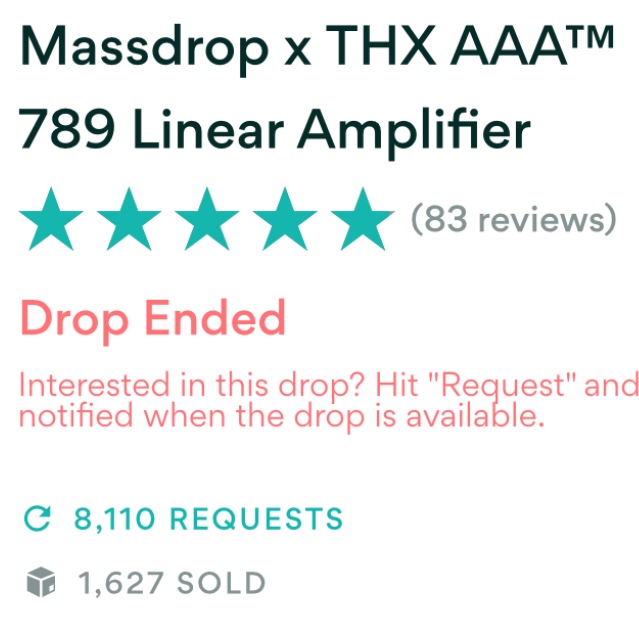 Well, I rounded.

@Mark_Tunis I see you have had a few dealings with Alvin. How do you like the terminator? Where are you country wise? Usa / Canada looking at the wall plate

Wow now that's an amazing looking TT.
isn't the Tone board just a single board DAC its doesn't need an SBC to run. Although they do offer one to attach to as well.
@Derek_Wyman do tell us more. DIY or pre built…OS and if roon bridge is running on it or not. Ethernet or Wifi? Standalone DAC? I don't see an SPDIF cable there.
Lots of that info at the site… the SPDIF in (and out) is the RCA connector unused in his pic… it's all here mate:
An that should have read…not and (edited)
It.has a usb input to which also powers it.