Are those 101e MKII on Townshend Podiums?
Incidentally, what is that knob and where does one find it?
It's an Ortho Remote, found here. It basically is a bluetooth HID device, that sends volume up/down commands when twisted and play-pause/next/back commands when single/double/triple clicked.
I have a few of them connected to the Mac mini that is running my core. For Roon, I use BetterTouchTool to caputure the commands (interpreted as keystrokes) and convert them into commands for @Ronald_Record's excellent RoonCommandLine.
I also use a nifty Volume Control app for controlling Spotify as well as a collection of small Perl and Python scripts to control my KEF LSX (kefctl) and LS50 Wireless II (pykefcontrol) speakers directly.
Works great and is very flexible – you can hook up as many knobs as you like. My current count is seven.

Any questions, just fire away – probably best in a different thread though.
Very cool! We have the same Cambridge Azur CD/DAC. Fine, fine piece. Yeah, you'd miss the matched set.
The Roon Nucleus is housed in the right hand rack behind a 2U vent panel. Optical is extracted from an HDMI output and fed to the Cambridge DAC. CD quality sound is okay by us. I used a MiniDSP 4-way for two years in this system. This was very nifty, but I decided I preferred the dBX analog gear. The block diagram describes the system. These speakers were designed and built by me. The 18" woofer box design was calculated and first constructed in 1984. The tweeters are the classic Great Heil air motion transformers, rear-wave damped.

Very nice. Did you do the cabinetry?
I did the rack system, then had a cabinet maker marry it up to the bookshelf install. All in red oak, clear finish. As the equipment is fully enclosed, attention is paid to adequate ventilation. Not shown in these pictures: the dedicated 2 kw on-line double conversion UPS power conditioner, remotely located; other small speakers in the room to augment sound staging, including DSP derived rear-center. In all, there are six stereo pairs of power channels.
For their final iteration in 1999, the bass drivers were removed from their standing cabinets and installed in ceiling mounted built-in boxes. One joist was cut through and the joists either side doubled.
Each box is 9 cu ft, two layer 3/4" ply, tuned with two 6" vents to quasi-Butterworth 3rd order alignment.
Add images
There's a lot of planning and dedication to pull together an installation like this. Congratulations and thanks for sharing.
Wow, that is really impressive!
This has been a very long term work in progress. Perhaps the biggest challenge was getting the mid-range right. The original crossover between the bass-mids and the soft domes was an asymmetrical passive with impedance compensation. I built four of them (8 ohm, 700 Hz). It was a good crossover, but didn't quite get it. When I went full active that solved everything. The bass-mids are closed boxes, Butterworth 2nd order, optimally damped at Qtc = 0.75. This is a line-source stack, but is not, strictly speaking, a true D'Appolito M-T-M phase coherent array. That was part of the problem, but I'm living with it. Here is a shot of the woofer baffles. The vents are 6" ABS elbows.

Here's my recently tech refresh setup for HT and Music
Martin Logan XTi 60's LR, 50 XTi C,REL T/9X Sub, Marantz 8015, Oppo BD-203 4k/Blu Ray player, Hi Fi Rose RS250 Media Streamer, Pioneer Elite 100 disc jukebox (really old, like 25 years, but still works), Drop turntable (forget model #), LG G1 77" OLED (not pictured Angstrom Speakers for 4 surroun channels, 2 Focal In-walls up high for Dolby Atmos)
I built my own fanless Roon Core Rock with a NUC and a fanless casse.
Thanks much. It is a labor of love and a point of pride. It is gratifying to have made an impression.
Thankyou! I really do appreciate your interest.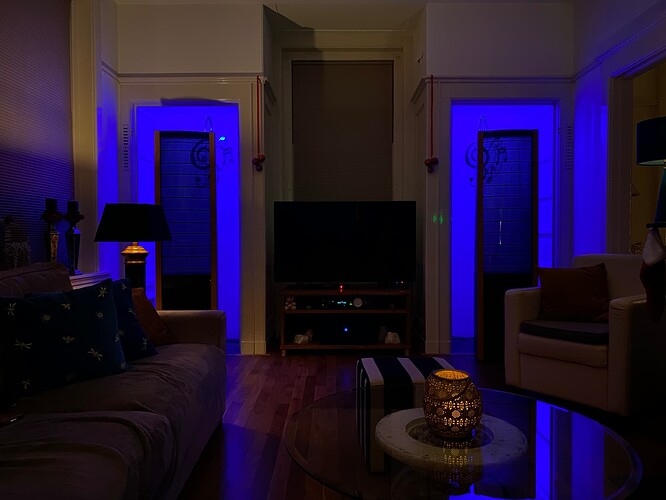 My beloved martin logan request.
With an dpa-1 pre with room correction from lyndorf.
Main amplifier home diy with UCD-700HG from hypex.
Roon core windows 10 with AO computer in a streacom db4 case with zeroflex psu.
Hqplayer computer windows 10 with AO in a streacom db4 case with hdplex audio-hifi power supply.
Connected via usb to regen usb filter then balanced to my lyngdorf dpa-1.
Kabels everything from audioquest.