Frank Sinatra's Roon setup in 1965.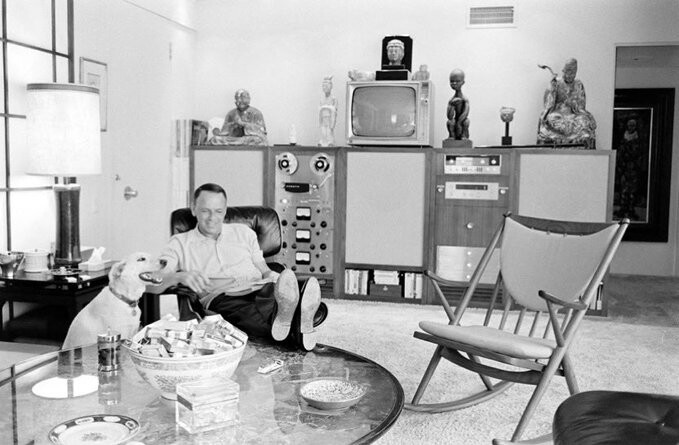 (h/t) https://twitter.com/MichaelWarbur17/status/1573266138993250305?s=20&t=UAE84XbhhI-ft5UY0LkAVw
Hi Jose,
Yes the soundbar is Goldenears 3D Array XL. The subs are Rogers Soundlabs Speedwoofer 10's.
The door leads to a balcony and really mess up the set up. But it's being used frequently so I have to live with it. And yes, the cables. Cables are cables. Always in the way…
Nice set, for reasonable money, respect.


I'd beat you to death in your sleep if you tried a setup like that across a used doorway. Your partner must be a saint.
Sheldon
An angel in many ways. And I have to live with her 150+ pillows.
You had me at " turn a few records"

"Fly Me To The Roon" was one of his biggest hits.
Unfortunately, people never really listened to the lyrics

SHL5? Looks as placed very close to wall.
Yes, I love ATC speakers. The dome mid makes them sound fabulous. A great speaker for honest sound delivery. A main reason why lots of recording studios use them. I was working on some air con in a studio near me. They had a pair of the SCM100ASL's.
I spent a rather longer time listening to them (with permission) than doing my work. LOL
You could run those wires into that little alcove and then over the top of the door, and build an enclosure.
Judging by the extreme high end setup, that looks like a 30k$ investment…
Rearrange the room? No bluetooth please.
…"fortunately" not my problem…
I'm kind of jealous…although those cables would drive me insane. I just checked the price of those speakers (circa £50,000). That's more than I payed for our house 25 years ago.

Not the footballer's part of Cheshire then

Far from it. We had Jan Molby and Dave Jones and that's about it.

To be fair that's what my mother's house is worth today. Crappy part of Liverpool

230 Volt via Bluetooth would of course be ideal. Any particular manufacturer in mind?