Nice to have you posting here.

My away from home setup for the week at the MIL's house. I've been relegated to the back porch because my brother-in-law is here. I'm using Audirvana just because I don't want to unauthorize my Nucleus and lose Roon ARC.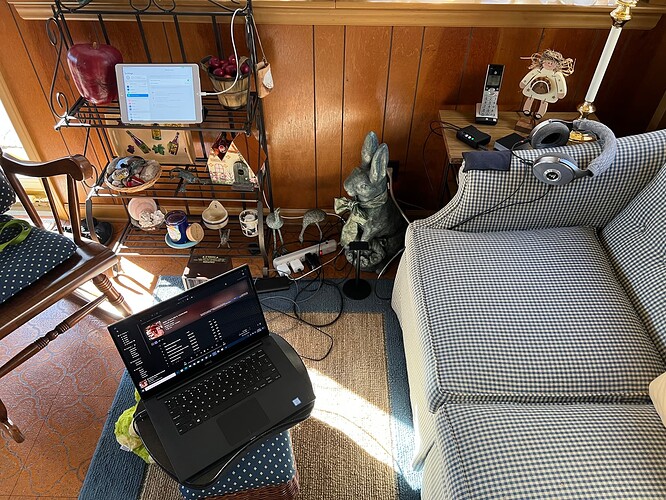 Looks very cosy! I too use the old Audirvana version 3.5 when on the road sometimes.
I really dislike Audirvana 3.5. So much so, I paid $70 to renew Audirvana Studio for another year. I much prefer Roon but can no longer use Roon on my laptop without giving up Roon ARC.
OMG Please don't keep those beautiful headphones so close to the floor.

Usually hidden away from my 2 year old grandson

. Put them there to include them in the picture. I could do with a better stand if anyone has a suggestion.
Glad you think they look good. They sound good, and the Audio-GD drives them with ease at its medium gain setting.
I like your design choices, is that a fold down cat napping station on the window/door?
Yes, with suction cups, works great but the cat is not so interested, rather sleep in my bed…
Kasper has good taste! I love Nils Frahm's music. It's immersive and slightly hypnotic. I think there's also the occasional nod of appreciation towards Keith Jarrett in some of his material.
Scintillating
ROON NUCLEUSv1
ARCAM ST60 Preamp/Streamer
VTV PURIFY High Power Mono Amplifiers
APOGEE SCINTILLA 1ohm version
SCNIC NUIMO & APPLE iPad Pro remotes
My Sonic Voodoo Addictions
NORDOST Red Dawn bi-wire
NORDOST Red Dawn XLR
APPLE/VOLEX Power cables
Dedicated 20amp power feed
Amazon Ethernet/Fiber Media Converter
IKEA and CHP Isolation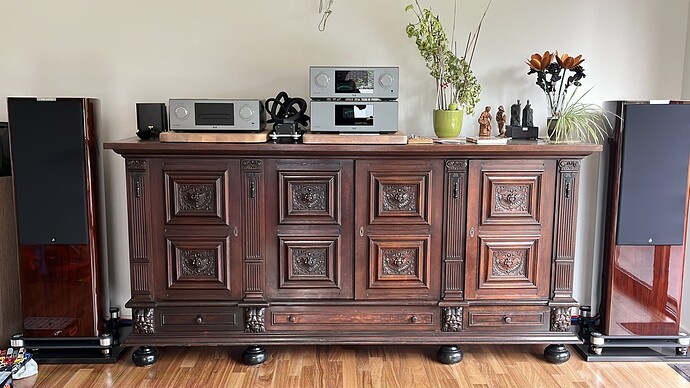 So - attached the end of a 10 year journey starting with NAD & Totem.
At the moment, I've restructured to
T+A HV components (PA 3100 HV, MP 3100 HV, PS 3000) and cables (Quad Carbon XLR);
Shunyata Research power cables (2x Alpha C19, 2x Delta C15, Black Mamba C15) using a T+A Power HD 3+2;
Fyne Audio F704 speakers with Tempo Electric custom made pure silver cables;
REL Carbon Special sub (behind me) with an AirShip II;
IsoAcoustic Gaia feet & Herbie's Labs dbNeutralizer fat dots for isolation;
All my music is digitalised, stored on a rack in the basement with additional AWS cold storage. Using the info I found on this side, I added a ROCK to disclose and discover my audio collection.
Many thanks for for the recommendation. I'll put put it on my Christmas list. Perfect present for a headphone lover.
A lovely looking system, but can I ask about the hot wheels?
It's in the living room… have to share the space with the family. My son loves wheels/cars.
Up to now, the kids have been very careful with speakers and all. The marble slabs under the speakers are high and large enough to stop most things before they could do damage. On the right side, just next to the speaker, you see the silver cables. I asked a red & blue jacket, with yellow crimpsocks

Looks more playful than grey, white or black.
This is my primary HiFi (man-cave/office setup). My speakers are Monitor Audio Bronze 2's and I have a pair of Sennheiser HD 650's. My amp is a Rouge Audio Sphinx V3 fed by a Topping D10s DAC into a Raspberry Pi 4B running RoPieee. My Roon core runs off of a custom built 23 TB unRAID server. On the analog side I have a heavily modded Technics SL-1200 MK5 I imported from Japan customized with a Jelco TS-550s tonearm and Ortofon 2M Blue cart. I use this older Samsung TV connected to my nVidia Shield as a display for Roon as well. Also pictured is my collection of albums.

That Ikea shelving unit is exactly what I used. Albums fit very nicely.
Nice setup.