I still get more exercise than a man with four sofas should get



Now I am reminded of Arthur (Two Sheds) Jackson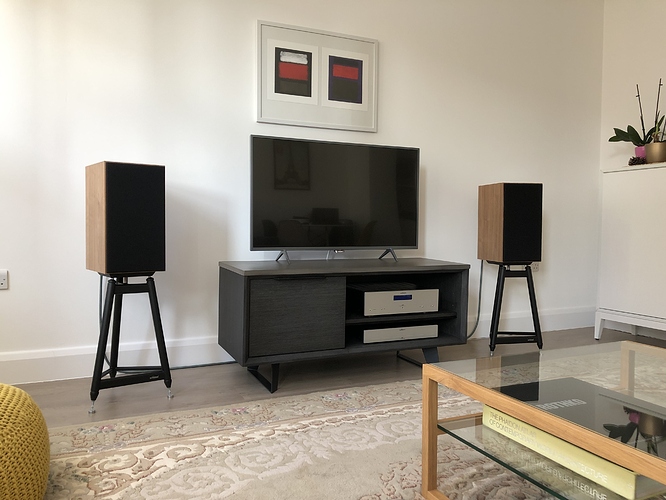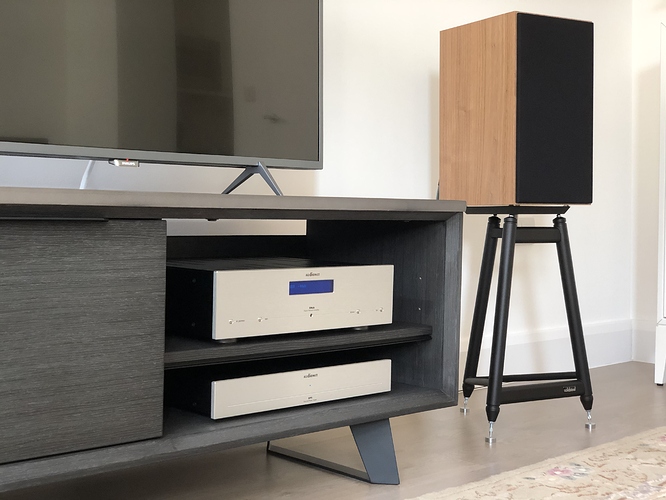 System:
Amp: Audionet DNA 2.0 + EPS G2 PSU
Speakers: 432 Point5 (DIY)
Stands: solidsteel SS-5
Speaker cables: Atlas Ichor MK2 (aka Mavros)
Roon & UPNP/DLNA Server:
QNAP TS-251+8GB RAM & 2x1TB Sandisk ultra II SSDs
Teddy Pardo Dual 12v LPSU
TP-Link Archer VR-900 Switch/Router
Cables:
Mains cables: H07RN-F 3 x 2.5mm with NAC3FX & NAC3MX (DIY)
Mains distribution: DCT03 + 432 Point5 4-way NAC3FPX & NAC3FPX (DIY)
USB cable: Nobility Eagle E-580US
Network cables: Metz CAT-7 MC GC1000 Plus23
Beautiful and tasteful room. Except, of course, for the coasters.

My new portable Roon set up. Sony WH1000XM3 bluetooth headphones. Use them with my iPad, iPhone and MacBook. I can easily walk around the whole three bedroom apartment without no dropouts. Soundquality is excellent especially with MacBook Pro that has aptx codec. Hope the future Apple products would support aptx-hd or LDAC, but this is good enough for now.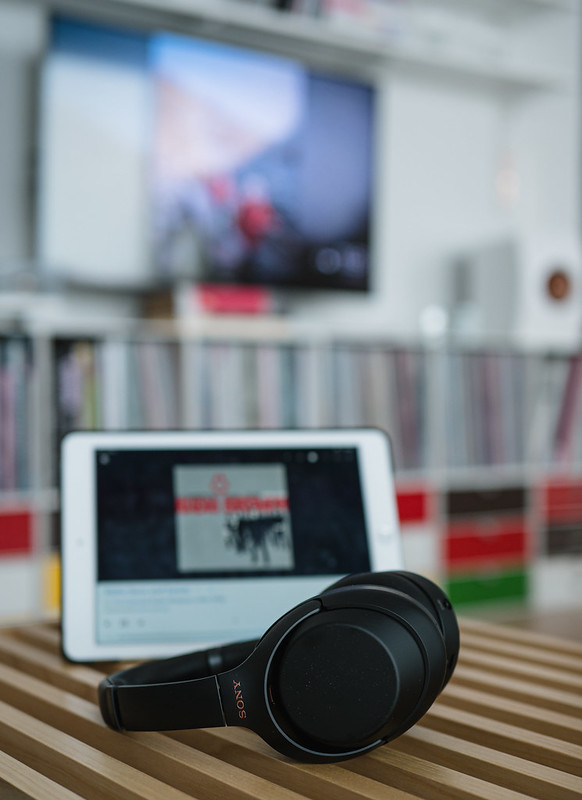 @RBM Thank-you!! the coasters are my partners own pictures. Took her to Paris for 5 day spring 2018. We could see Notre Dame form our balcony!! - A beautiful city… one day we plan on moving there!!
OK, OK… Consider my comment withdrawn then.

And yes – Paris can be lovely (even though I prefer London).
Hi all,
Here is the Roon setup I use everyday: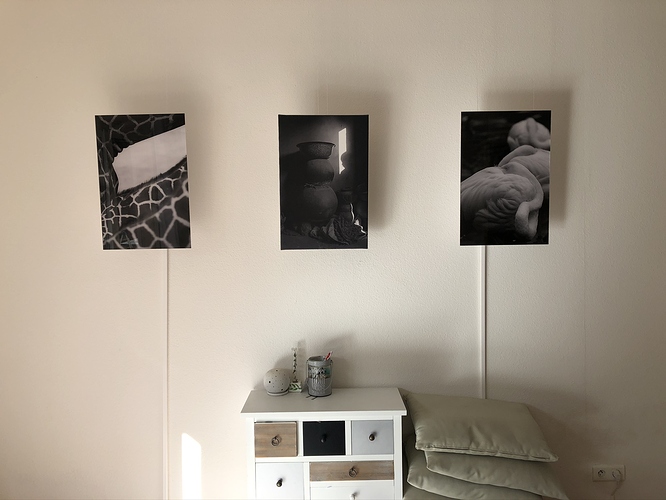 The speakers are the picture of the giraffes and the pink floyds. I had them printed on a Plexiglas support. A Dayton driver is at the back, as shown below.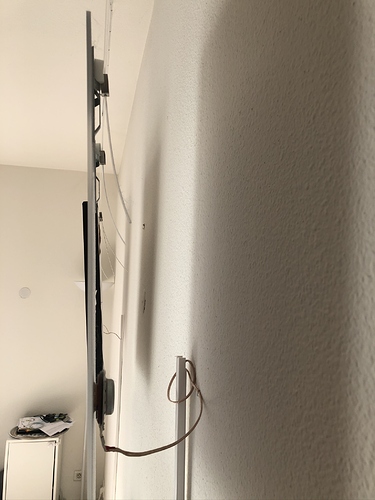 The speakers are filtered (magnitude and phase) using impulses loaded in Roon. The filters were determined both from the geometry (open baffle compensation starting at 400 Hz if I remember well), the estimated resonances due to their distance from the rear wall and also from measurements. I also use a highpass filter at about 55 Hz otherwise I cannot push up the volume.
They are driven by a digital amp connected to a Raspebrry PI used as an end point. They are both in a cabinet (the one at the back of the above picture.
The amp and Raspberry PI are shown below.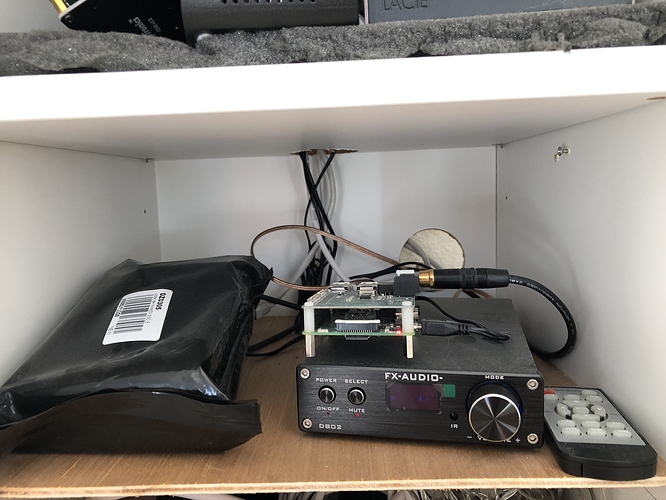 Roon core is installed on Ubuntu LTS and I use either the phone or tablet to control it.
It is nothing fancy but they are not intrusive at all and they sound great for pictures :). The voices are surprisingly natural.
Ludovic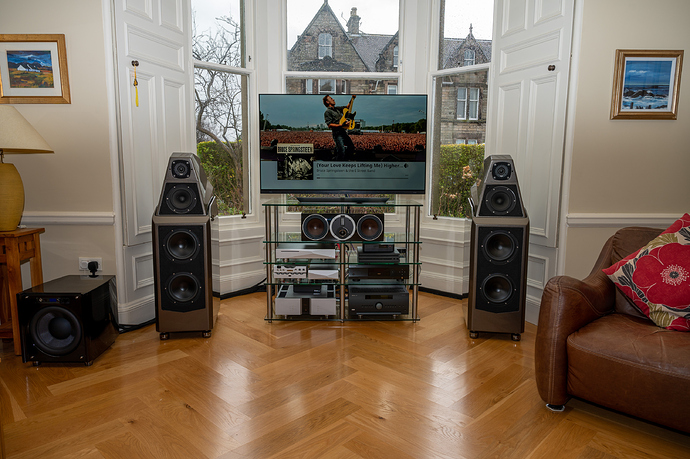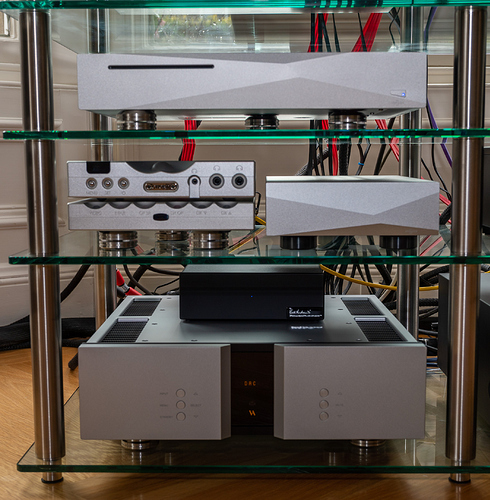 Innuos ZENith Mk.3 (4TB) running Roon 1.7 in Experimental Mode (local SqueezeLite memory player)
Innuos Phoenix USB Re-clocker
Chord Hugo M Scaler
Chord Hugo TT 2 DAC
Vitus Audio SIA-025 Mk.II Amp
Wilson Audio Sasha W/P Series-2 Speakers with IsoAcoustic Gaia I feet
Velodyne Digital Drive 12 Plus (DD12+) Subwoofer with IsoAcoustic Gaia III feet
Tellurium Q Silver Diamond USB (x2: Server to Re-clocker to M Scaler)
Wave High Fidelity STREAM Dual BNC Cables (M Scaler to DAC)
Tellurium Q Silver Diamond XLR (DAC to Amp)
Tellurium Q Silver Diamond Speaker Cable (Amp to Speakers)
Tellurium Q Black II Speaker Cable (Amp to Subwoofer)
Russ Andrews PowerKord-500 throughout
Russ Andrews The PowerBlock (x2 daisy chained)
Russ Andrews PowerPurifier Classic (fully loaded)
FURUTECH FP-1363-D Mains Wall Socket
Separate Power Spur off Mains Consumer Unit
AQVOX AQ-SWITCH SE Special Edition
Wireworld Starlight Cat 8 Ethernet Cable
Future Glass GEM Cinema Support Stand
Plinth Design Cera-Disc Isolation feet under components
i have often thought about raising my Heresy IIIs, do you notice a big difference?
i love the solid steel speaker stands.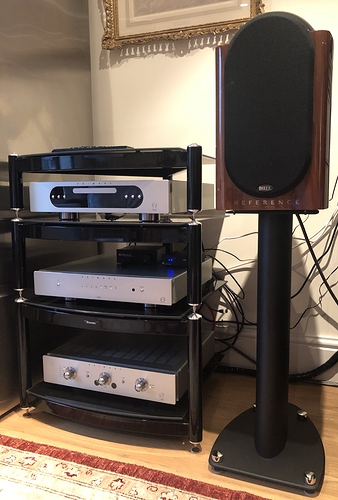 In the front room, a Primare set up and KEF Reference 1 speakers with a Pro-Ject Stream Box S2 Ultra. The recent addition of an Audioquest Dragonfly Cobalt into the NUC with a pair of P9 headphones has made my favourite chair the perfect place to relax.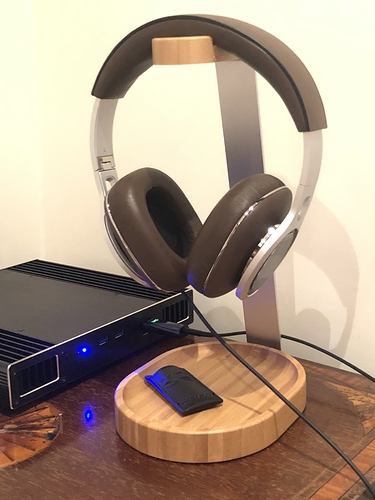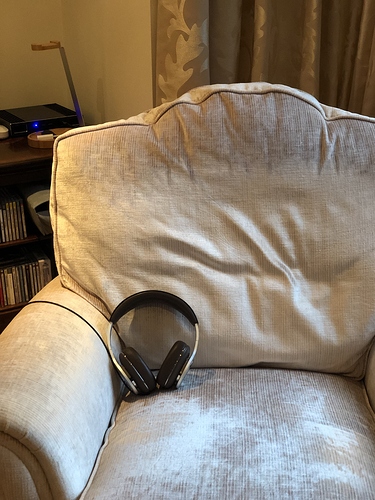 I love Sony headphones as well and use them at work to stream Qobuz. I will need to see if my MacBook Pro has the aptx codec!
Actually, they are B&W headphones. Not a great colour but they perform well.
It does. This will get you underway:
Hello together,
my name is Matthias and i am from Germany.
A lot of very imressive setups here - this is mine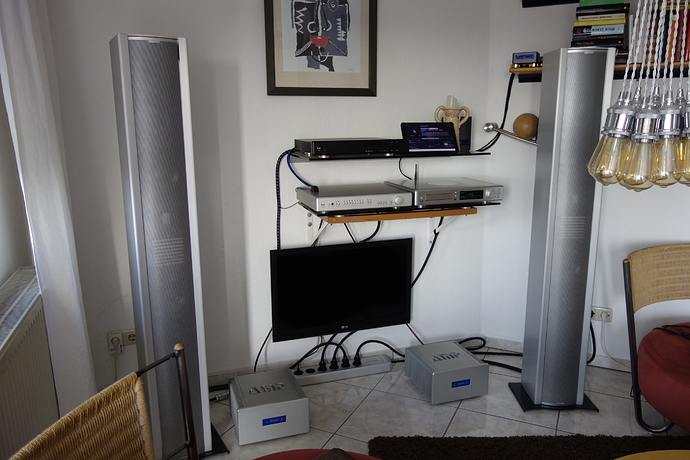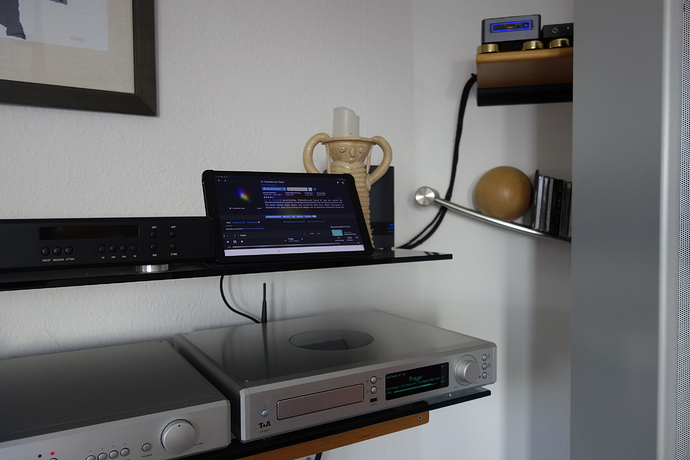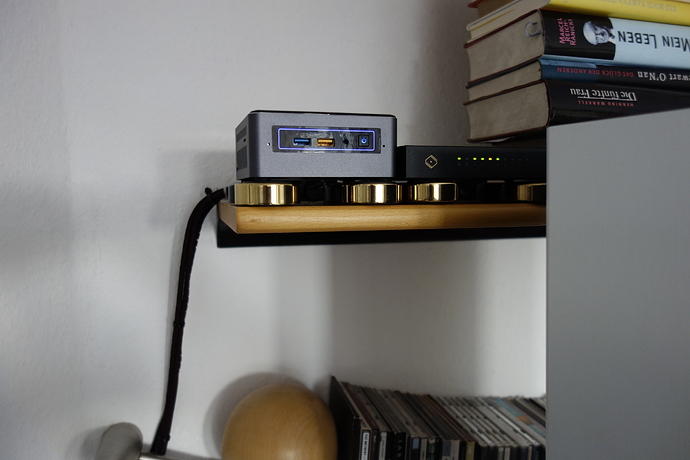 T+A MP 2000 R MKII
T+A PD 1200 R
T+A T 1200 R
AMP by Günther Mania Mono Amp
PIEGA P 5 LTD
B&W Loudspeaker Cable CDC 8 T2
Sun Audio NF Cable
T+A NF Cable Audio Triax
INTEL NUC7i7BNH
Silent Angel Bonn N8 Switch
Audioquest Cinnamon Ethernet Cable
EMO Systems Networkisolator Emosafe
Fisch Audiotechnik Studio Line Powerbar
many greets
This is great, thanks! I use the headphones connected to my music library room's iMac while I am managing the music database, so I look forward to seeing what codec is being used. Cheers!
Wow! And to meet the minimum of 10 characters for a post: Wow again!
Definitely my favorite thread.
Of course there's a big difference. With the Heresy's on the floor, the entire sound stage and everything is no higher than your knees. Mid-bass was also heavy, mushy and thumpy. I never intended to keep them on the floor anyway. I always planned on putting them up on stands.
Having them up at ear level makes everything about the Heresy's better. The little tables that I'm using currently as stands actually places the mids right at ear level. Mid-bass, midrange and treble is even, natural and smooth, they produce a rather wide and deep sound stage with surprisingly good imaging (though people always say horns don't image well).
The front baffles are roughly out 4' from the front wall and about 2.25' from the side walls. The Polk subs are getting their signal via Wireworld bi-wire Oasis 7 speaker cables fed from the Schiit Aegir amps which sounds a whole heck of a lot better than via interconnects. It makes these subs sound and perform so much better than I ever expected them to. I have a pair of JL Audio e-110 subs sitting in the closet because these old inexpensive Polk subs actually perform better! They are crossed over around 70 Hz and the Heresy's are receiving full signal via Audioquest CV-8 cables.