I am a little confused by the use of MQA in the signal path, as well as the resulting blue dot showing signal manipulation on that account.
Case in point is this comparison:
First instance is a real MQA file (from Tidal).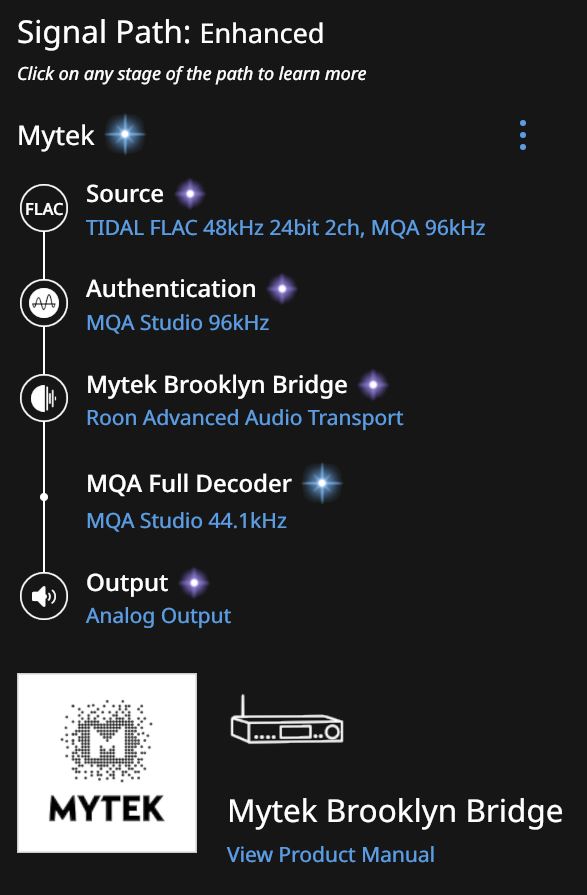 If I read this correctly, the MQA authentication (i.e. "first unfold" is done by my Roon core (Nucleus+) before being sent to my roon-ready DAC (Brooklyn Bridge). And after reaching the DAC, the full MQA decoding (i.e. "second unfold") takes place in the local DAC process that renders it to its final analog signal, where the blue dot also comes into play - showing a manipulation was done to the steam.
(btw, is this correct? MQA formal terminology usually refers to the first unfold as decoding, and the second one as rendering, which isn't fully compatible to the above terminology - but I am guessing that is what is in fact happening?)
Second instance is mystery to me. this is a regular file that is NOT an MQA file (FLAC 44.1kHz 16 bit from Tidal, i.e. standard CD quality):
Indeed, as expected, Roon doesn't do any manipulation to the steam, since there is nothing to manipulate. However, this shows MQA decoding on the Roon-ready DAC side (Brooklyn Bridge). That is not correct. I can confirm that the MQA indicator on the Brooklyn Bridge is off (as it would be, since no MQA file is detected). I even disabled MQA completely on the DAC for good measure, and Roon still shows both an MQA decoding, as well as a blue dot to indicate some stream manipulation is done, while none is.
What explains this?
It would be good for this info to be reliable and meaningful as it is so core to the Roon value proposition.
Thank you (and sorry for the long post)