I've been dabbling with Roon for a few months now, and am still learning a lot about it, only this week grasped that all my different devices could be their own end points rather than just my main hi-fi. Dumb I know but I'm learning as I'm going!
I had something strange earlier which I've been struggling to work out, hopefully someone will be able to give me some guidance.
On my Windows PC I was playing back from my local library 16/44.1 using Roon, outputting through a Dragonfly Cobalt to my Audeze headphones, Audeze DSP filter applied.
Signal path ( after a bit of fiddling) showed lossless, the Dragonfly and Audeze product images showing which I was strangely really excited by.
I then switched to my Moto G5 Android phone, outputting again through the Dragonfly -> Audeze headphones and I got the following signal path:-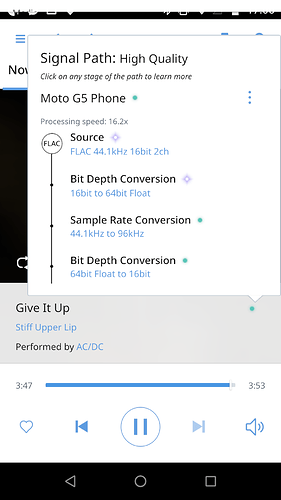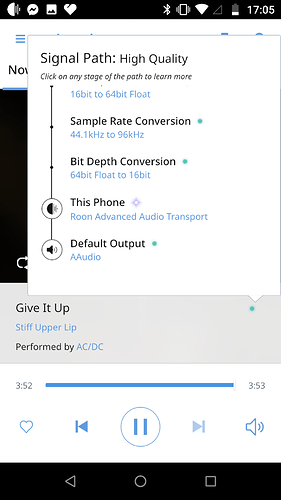 I have no DSP activated yet I get these strange up sampling/downsampling items, with no outputs via Dragonfly /Audeze, and a high quality signal path rather than lossless.
What is happening to the signal here?
Why is Roon not seeing the Dragonfly or theAudeze headphones?
Any advice will be gratefully received!