I am really trying to adopt the Roon mantra on using Focus as a replacement for traditional smart playlists (i.e. iTunes Smart Playlists). Ultimately, what I keep running into are problems like these:
Here is an example of a "Focus" showing my Qobuz library, restricted to Classical music. You can see Frank's album in the second row, third from the left:

Clicking into the album: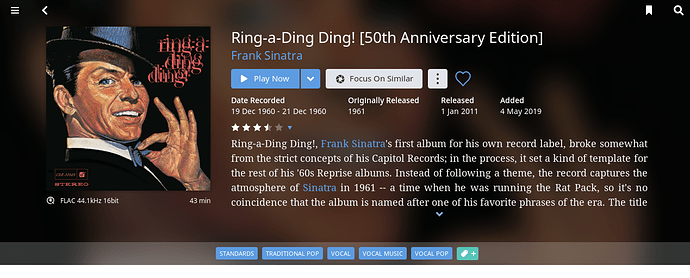 What in the list of displayed genre chips, which of them is "classical"?
So, I end up adding additional focus chips to remove unwanted albums, like this: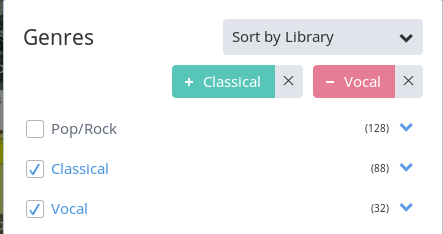 But, what if removing VOCAL also removes some Opera selections? So, I have to add/remove a chip and see what gets filtered.
I've also resorted to using tags to create groupings. For example, when I was building a bookmark for my collection of RCA Living Stereo SACDs that I've ripped, I was able to get most of them using label focus tags. But I noticed that some where missing, due to misidentified labels.
I don't know what Roon can do about any of this, since Roon has no control over the metadata from AllMusic, et al., but there are other examples like these I keep running into and its making me feel like I am curating my collection twice.
I do understand why Roon won't allow arbitrary ID3 tags for Focus, since that would break a design principle of making "playlists" and bookmarks function the same way with both local collections and streaming services.
Anyway, enough ranting…