Roon Core Machine
Win 11 headless server with 32Gb RAM, 250Gb Samsung NVMe and 10Tb WD Red running Roon Server. (Intel Core i5-11400)
Networking Gear & Setup Details
Server hard wired, a mixture of hard wired endpoints, Asus AX58 router.
Connected Audio Devices
Altair over WiFi, USB from Core, Pi's and SOtM sMS-200 Ultra Neo via unmanaged switches. Sonos and Bluesound devices wireless.
Number of Tracks in Library
around 200K tracks local, ca 400 albums on Qobuz
Description of Issue
I think i found a weakness in the database design. I have a pretty extensive library, some 14K albums, where a couple of thousand are duplicates, in other formats.
I have some 6K artists, where i have favorited some 700 for an easier way to browse them.
I figured it would be a good idea to Tag these artists also, as a custom tag "Favoritartister". I mostly browse my liibrary through the Album view and figured applying the Tag filter of "Favoritartister" would show the albums by those artists, but this causes two things:
Firstly the database freezes for almost a minute when applying the Tag: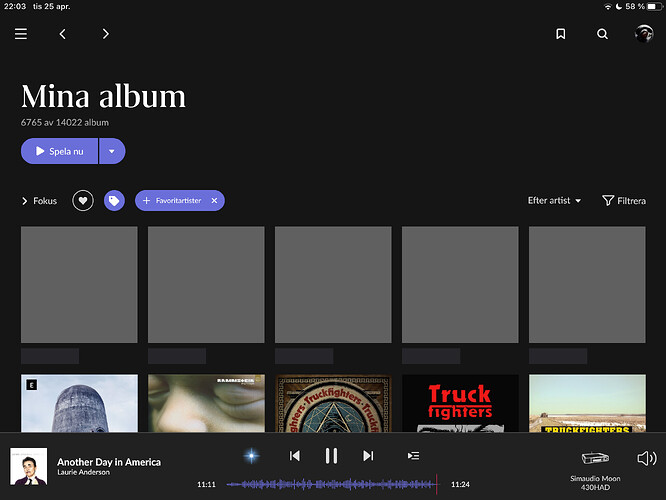 Secondly, the filtering on the Tag it seems to show albums where favorite artists are credited as teack artists, not albums where they are "AlbumArtists" which causes a lot of Various Artists-albums to surface…
So, is the wait time to filter on Favorite Artists tag in Album view reasonable and expected?
Secondly, how can i make it only apply to AlbumArtists?