Hi @Andre_Gosselin,
So we can better assist you, please provide a brief description of your current setup using this link as a guide.
Make sure to describe your network configuration/topology, including any networking hardware currently in use, so we can have a clear understanding of how your devices are communicating.
How often are you seeing this issue occur?
HI @dylan
My setup:
Core machine:
Win10 with latest updates on NUC Intel i5 2.20GHz 8G ram
Networking details:
Roon core cabled to ActionTech router, audio devices (ultrarendus) cabled to same router
Audio devices in use:
Sonore ultrarendu (cabled to router) > USB > iFi ProIDsd dac
Sonore ultrarendu (cabled to router) > USB > Simaudo 780Dv2 dac
Those 2 zones are grouped and audio is streamed to this group
Qobuz streaming quality:
H–Res 24-Bit / Up to 192 kHz
Library details:
4TB USB disk connected to NUC usb port
Since upgrade to 1.7, I experience random skips when streaming with Qobuz. Those happen at various intervals, usually 15-30 minutes of each other. Skips were quite severe last night (EDT 18h to 24h). This morning I followed advice to logout from Qobuz and log back.This did not help, and annoying skips keep occuring (3 skips in the last hour (EDT 10h-11h). No message on the Roon display when this happens.
If you want to activate logs on my system, please go ahead. I am all there to help!
Regards,
André Gosselin
As a complement of information, this is what happened when streaming a 24/96 album from Qobuz in the last 2 hours (EDT 10-12h)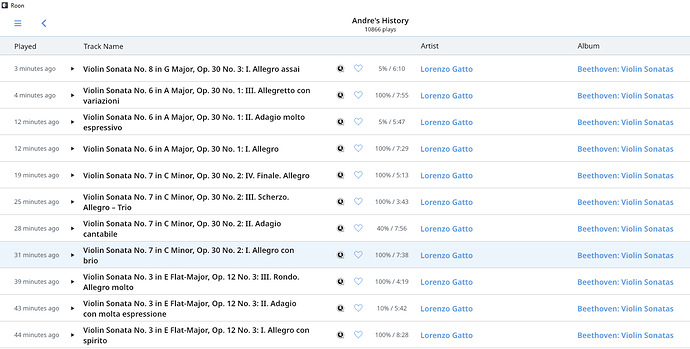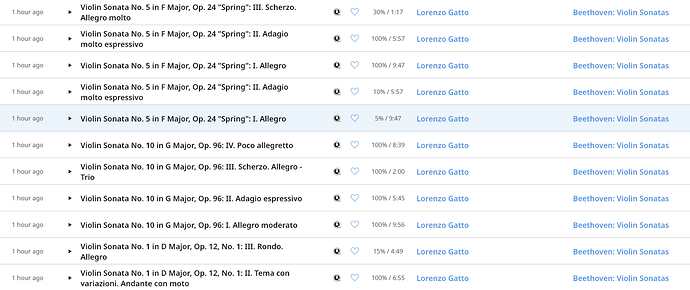 Would it be helpful if I posted updates history screenshots during the day ?
Regards
@dylan
Using suggestions posted in different places by @dylan and others relative to the Qobuz skipping track issue, I spent time today (a lot!) trying to accumulate data and perhaps identify recurring patterns to help diagnose this problem.
Using the above setup, I played the same lenghty Qobuz album:
33 tracks, length: 3h45min, 24/96 resolution
on two different endpoints:
1- System output (Sony bluetooth speaker)
2- Copper ethernet > Sonore ultrarendu > USB > iFi Pro iDSD
In each test, album was streamed from start to end without interruption, with nothing else playing in Roon. Here are the data that accumulated in my History for each test.
Playing to System Output, start: 2011-11-24 14:52 EDT end: 17:39
Streaming to Sonore ultrarendu, start: 2011-11-24 18:00 EDT end: 20:58
It can be seen that skips occured fairly regularly on both endpoints. @dylan asked to check if they occur with System Output. On my system, they do as frequently as on the ultrarendu .
As for the possibility that the skips occur on specific tracks, I placed side by side the History contents for the two endpoints to ease comparisons. In the image below, the data for the Sonore ultrarendu occupy the left column, and those for System Output the right column.
I think it is very interesting to note that:
1- Skips occur almost always on the same tracks. The only 2 exceptions are for tracks:
Sonata No. 4, I. Presto
Sonata No. 9, II. Adagio
where the skips occur both on System Output, but not on Sonore ultrarendu
2- The percentage of time played when the skip occurs varies between the endpoints. This percentage is not systematically longer on one side or the other. For example, for Sonata No. 9 I. Adagio, the track played longer (50%) on the ultrarendu than on System Output (25%). For Sonata No. 5 III. Scherzo, it is 20% for Sonore ultrarendu vs 40% for System Output.
I have no difficulty streaming the Album to the Sonore ultrarendu in DLNA/MPD mode using Android BubbleUPnP. as control point. This rules out the possibility that the album is corrupted on the Qobuz server. This is in line also with the fact that, on Roon, a skipped track may play longer on one endpojnt than the other.
@dylan I hope the above data can help Roon team solve the problem. Would it be interesting to send you my Roon logs ? I will always be ready to cooperate and do more testing if needed.
Regards,
André Gosselin
Hey @Andre_Gosselin,
As mentioned in our PM, we just released Build 505 with some changes that we think will help here. Go ahead and install this on top of your existing install, and let us know how things are going, ok?
Thanks!
More details are here:
This topic was automatically closed 365 days after the last reply. New replies are no longer allowed.