MacOS 10.14.6 late i7 64GB mem 3TB Hybrid drives 8GB gpu Roon Version1.6 Build475 64bit stable
The Problem:
There was a message about an update that I did not get to select an answer to, which I do not see reflected in my "About Roon" software message, it shows no update whatsoever. So I do not believe that this update was ever installed correctly. I mean clearly there were some changes made but it was not registered by the program itself. It still says version 1.6 build 475 64bit stable, which is what it has said since I installed it.
I tried to go back using the backup feature and sadly found out that only backs up the album data. Which was a while ago, now I have to redo a bunch of albums/bands/groups that I had selected.
After this message, my Signal Path lossless structure changed, it went from being all Lossless to Enhanced! In fact the entire Signal Path Hierarchy has changed in this list of devices and software. There is an extra node shown now. It shows that the culprit seems to be from the "MQA Full Decoder" (which was not even present moments before) not running lossless. Now I am very certain that my Mytek Brooklyn DAC+ does complete Encoding/Decoding of MQA's. So I do not know why anything has changed. Besides my main point would be that it was working perfectly before. Now it is not? How can that be? More importantly how do I fix it. I have included 2 screenshots of the before and after Signal Path's.
I hope something can be done to bring it back to lossless before I have to decide to subcribe or not to subscribe.
TYIA
GEC
Now here is the big problem, I have just recieved notice that it is time to pay up or get lost! I find it hard to pay up if Roon is not going to properly work with my hardware. If I had a Lossless Signal Path at one point, I should still have it with the same hardware and no hardware changes.
I really was liking Roon. I don't need headache's though. It seems simple, I have the right hardware, a more than able computer, things should be working… as they indeed did at first. I might have to go back to just using Tidal. That would be misfortunate.
My internet is directly connected through Ethernet and Wireless to my DSL service.
I am using a very excellent Mytek Brooklyn DAC+ connected with a Shunyata Venom USB cable. I am currently listening through some Sennheiser HD600 headphones over a Nordost Blue Heaven headphone cable, soon to be a Meze Empyrean headphone with a Double Helix cable.
Here I have included two shots one of the old Signal Path one of the new Signal Path:
First the Old Lossless Signal Path: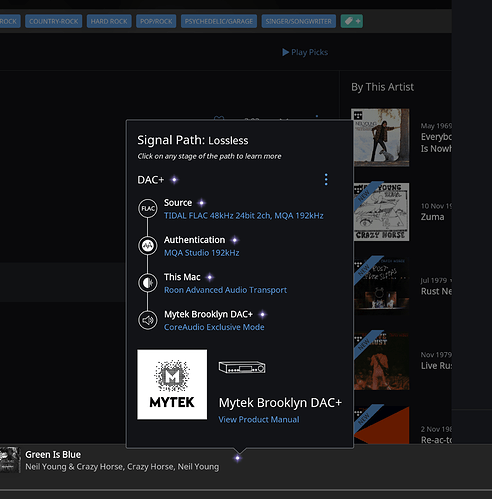 Second the New crappy Enhanced Signal Path: