See title, is this possible?
The reason I ask is that I run HQPlayer + Roon on my normal desktop computer (a Ryzen 5950x) and usually do other stuff at the same time. If I could, for example, assign core 6-16 to HQPlayer, core 5 to Roon, core 1-4 to Chrome + whatever else I do it should stabilize things.
It's possible to do this in windows, using task manager detail view, but HQPlayer crashes if I do that: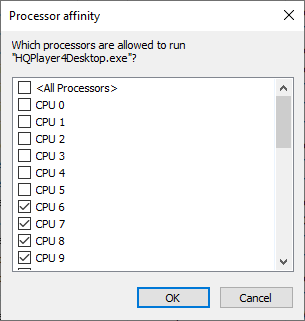 Any solution to this? As it is now, I get the occasional drop-out even at DSD128 with asmd7ec, despite the CPU usage only showing 7% for HQPlayer.
Or any other fix I can try?
PS: yes I know I should run HQPlayer + Roon on a dedicated computer, but that costs money and if possible I would like to avoid it.