Thanks !
Will wait for the next release.
@spockfish A big thank you FOR the wireless change !
Ok unfortunately for me a total nightmare.
I was also changing my wireless AP this weekend, maybe not a good plan.
I was able to do the updates (1 PI4 with USB and 1 PI3B+ with HAT) for the wireless Pi's but when i wanted to change to the new wireless AP they seem to have been stuck in a loop, I then decided to reflash the cards with the latest release with the XZ compression but 1 failed (Pi4) and 1 was still running after 35 minutes. I am now reflashing to the 202009 version. No issue on the wired Pi's. any clue what is going wrong ?
Thank you,
Patrick
Please elaborate… what is XL what is Ropieee
Thanks
@spockfish , if one is running XL and does not use the extra services, does one risk connection issues or any other misbehaviors? I struggle with network errors on my system with four (sometimes five) Ropieee units and rather thoughtlessly run XL although I don't use the other services.
Would a downgrade from RopieeeXL to Ropieee provide any possible benefit to me, generally speaking?
You can't do that, except reflashing of course.
In general there is no risk in using XL when you're doing Roon only, but there are 2 reasons why you might don't want to do that: 1) it saves installation time, 2) it makes it 'easier' to do support.
But if you're running XL than you're fine. No need to pro-actively reflash.
Hi,
Just updated without any problems - thanks!
The only thing I still don't like is the shutdown of the spdif outputs after 10 seconds every time I stop the stream from Roon. The problem is that my DACs then tends to defualt to a sample rate that often is different than the stream. This causes an audible click that could be avoided if the spdif did'nt turn off. The click also happens when the stream returns of course. I use the HiFi Berry Digi+ HAT. With the same HAT and other players like Squeeze lite the spdif stays on all the time, but I would prefer your player…
May I ask, (and please feel free to redirect me to a more appropriate thread), why does the USB FW Version option exist?
I have used RoPieee for a while now but never have used that option. Should I update the USB FW with every RoPieee update?
I use a USB DAC, by the way.
The Raspberry Pi 4 comes with an USB controller chipset with it's own firmware.
"in the beginning" there were some troubles with this chipset: temperature was getting too high, data transfers instable.
People were fixing that manually, hence I integrated in RoPieee. If you don't run into issues then I would suggest to lean back and enjoy the music

I suspect that in the near future this option will be removed and be taken care of automatically when RoPieee updates.
Thanks
Many thanks Harry! Have had no issues, just wanted to chase away any FOMO.

Please report beta issues in the beta channel. This thread is about a stable release.
Thanks
Just a little correction: I compare the behavior of RoPieee to the piCorePlayer in the same setup. With piCorePlayer the spdif signal (both coax and toslink) stays on when the stream from Roon is paused or stopped but with RoPieee the spdif signals disappears completely in this situation causing annoying audible clicks from the DACs I use (Benchmark DAC3 and Denafrips Ares II).
Beside this I definitely recommend RoPieee as Roon endpoint for several obvious reasons.
Ok apparently i am having issues (dropouts) on my internet connection due to some works a bit further on the road, so I suppose the problems will be solved when i have again a stable internet connection
Another successful pair of updates for my two RP4s running RopieeeXL (Roon + HQPlayer NAA). I guess we'll see the USB update in the next release.
Yes it will land in the next release.
Updated fine for me on three Pis, including one wifi. A fourth failed and would no longer boot. I just re-flashed the card with the latest firmware and all was well. Thanks, Harry, for all your effort.
Hi, my first post in this forum after quite a while reading silently.

I am running two RPi3 with RoPieeXL for a while now. I had both set up for automatic update and a reboot once a week on Sundays. On Sunday morning both RPIs were unavailable in Roon and they didn't answer on other network access, either. Thus I flashed one RPi to the latest RoPieeXL version (20201205-ropieeexl-ose_rpi234-stable.bin) as it's easy to set up.
Anyhow it seems that the external USB Wifi-Dongle cannot be activated any longer. It's a tp-link AC1300 (Archer T4U) which I have used with these RPis (and RoPieee) for a while now. The dongle is listed on the wireless setup page but after a scan no networks are shown (when selecting the internal RPi Wifi the networks are shown):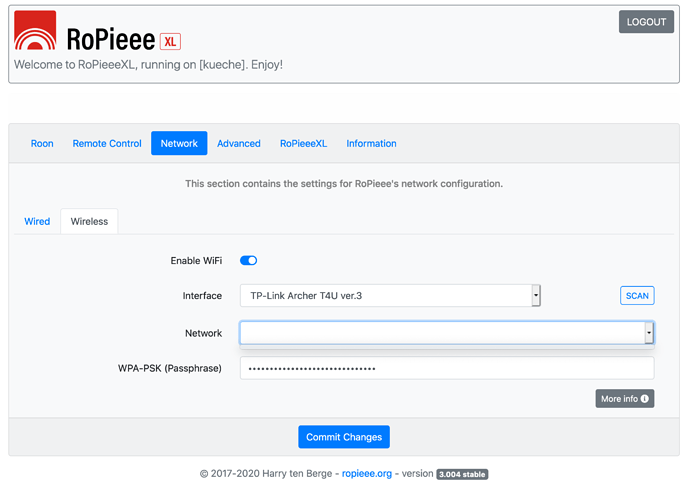 I tried to access the RPi via ssh to see if I can find anything in the logs but somehow it didn't accept the password "root". Has that changed?
Is there a know problem with these kind of external Wifi adapters with the latest RoPiee version?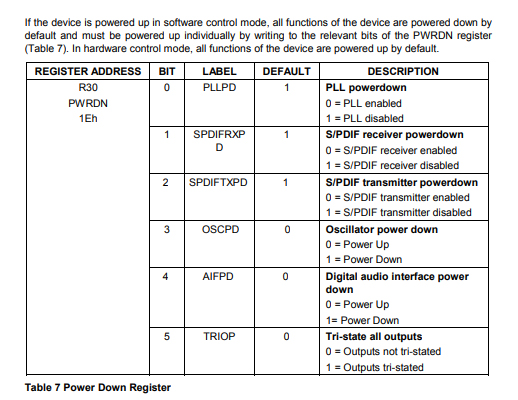 Hi Spockfish,
Concerning the stream-related enable/disable of the spdif outputs at the HiFiBerry Digi+ HAT (which is based on the Wolfson WM8804 chip) I found this info. It seems that the "SPDIFRXP" flag is turned on/off by your RoPieee player while it is normally permanetly enabled while using piCorePlayer or the player from HiFiBerry. I suggest this small update to your excellent player to aviod problems with the DACs following the Roon bridge running RoPieee caused by the frequent spdif lock/unlock and sample rate changes that takes place during simple pause/stop commands from the Roon UI.
All the CD- and DVD players I know of has their spdif outputs kept active all the time they are powered up even if nothing is playing so why should this practice be different while using RoPieee Roon-bridge as your spdif source?