Hi,
Would it be possible to add an option allowing to stack different versions of the same album ?
Specifically, I'm talking about album covers.
For example, here's what Roon presents me for my Led Zeppelin collection:
Roon counts 31 albums. It actually counts all the versions of the
different albums and adds them up, which is incorrect IMHO (at least
it should indicates 31 releases). In my Led Zeppelin collection,
I actually got 13 different albums and several of these albums have
multiple versions.
Roon presents every versions in the Main Album section. I think it
should ''stack'' them together for each album. Instead of having
specific tags on the covers (audio format and version), it should
indicates ''# versions''.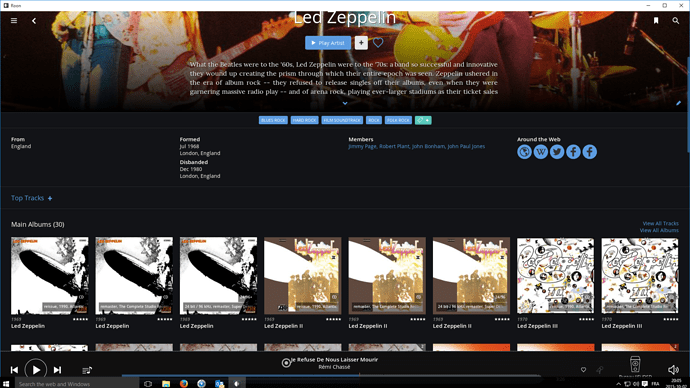 By the way, I think Roon should provide more flexibility to define the way a discography is presented. For the moment, there's ''Main albums'' and ''Singles, EPs and Compilations''. All my music files include a [Release Type] tag which can corresponds to any of the following categories:
Main albums
Live Albums
EPs
Singles
Compilations
Soundtracks
Bootlegs
Collaboration Albums
Split Albums and EPs
etc.
I understand that multiplying album categories would clutter the visual experience for most users, but having the possiblity to do that would be useful for music collectors (ex.: John Zorn and its infinite discography…).