Had an slight issue with Roon where i don't think the behavior it exhibited was intended. Not sure if this is RAAT related or not but thought i would report it.
Setup is as follows a Gigabyte Brix running Windows 10 and Roon Server connected to the same router as my NAS which stores my library. I have a Sonic Orbiter SE connected to my DAC which is connected to my network via an Access Point. Control is through an android tablet. All are running the latest version of their respective software.
When i got home this evening i grabbed my tablet and resumed playing an album i was listening to this morning. As soon as i hit play Roon started immediately skipping through songs. By that i mean a song would quickly show on the play bar and less than a second later jump to the next without playing anything. Initially i thought something was wrong with the tablet and then noticed that my DAC and Amp were in stand by. I was unable to pause what was playing on the tablet as it was skipping to fast and had to fire up my PC to do so.
I turned on my dac and amp, hit play, and the same behavior persists. I remoted into the Brix to restart Roon and the same behavior persisted. Finally i restarted the sonic orbiter and it that seems to have corrected the issue.
Im guessing the cause was hitting play with the DAC off as when i tested it a second time to confirm i noticed this popup briefly: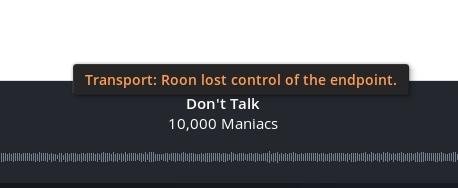 I didn't notice it this morning when i assume i put my dac and amp in standby. Subsequent testing showed that it only popped up once after the server was restarted. More specifically I can restart Roon Server, turn off my DAC and it will pop up. If i turn it back on before hitting play everything is fine. At this point i can turn off the DAC whether the music is playing or paused and get one of two results. Either it keeps playing at normal speed, according to the wave bar or it paused the music. If i restart the server and hit play with the DAC off it freaks out again.
Im not sure if this is an issue with Roon, RAAT, the Sonic Orbiter SE, or my DAC but would it be possible to change to behavior when this occurs so that it issues another popup or error message rather than skipping though the songs? Apart from being confused trying to stop playback to try and rectify the situation wasn't easy.