Core Machine (Operating system/System info/Roon build number)
Roon MOCK, or other
Network Details (Including networking gear model/manufacturer and if on WiFi/Ethernet)
Good, clean networking!

Audio Devices (Specify what device you're using and its connection type - USB/HDMI/etc.)
Anyone, not relevant
Description Of Issue
When sorting your Album view in "Order by Artist" i get a lot of my sampler albums inserted here and there. I can see that they are injected in the list based on their Album name, but i have selected Sort by Artist. I have them tagged as AlbumArtist="Various Artists"which works fine in other software, and seemingly good enough even in Roon. Most of them are correctly identified and still seem to retain the AlbumArtist="Various Artists".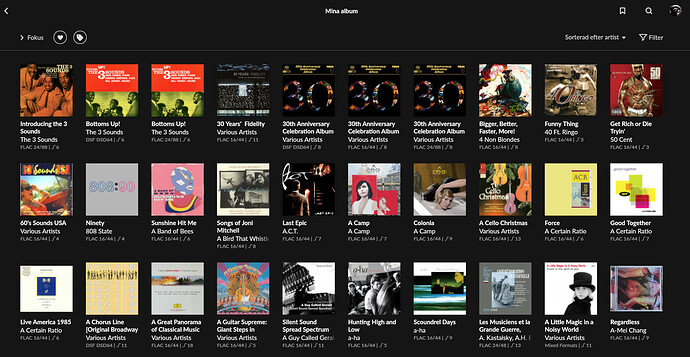 I am also having troubles creating a bookmark/tag for my beloved samplers as Various/Various Artists is not selectable as a Focus option, neither as Artist nor as an album type=Compilation
Right now i have a bookmark for focus Genre≠Classical and Filter="Various" but it seems a bit missing…