Roon Core Machine
NUC 7 - iMac (Big Sur)
Networking Gear & Setup Details
cabled Ethernet 5e network with two Netgear LAN switches
the culprit Express base is hard wired with fixed assigned IP (10.0.1.3, which shows correctly for a short time in Roon Audio page, then switches to a mysterious 169.254.118.155 - I guess the factory assigned) and is connected with Optical Tos link to the DAC Bryston BDA-3
Connected Audio Devices
Number of Tracks in Library
Description of Issue
System has been working reliably (apart the old Airplay issues not entirely solved, but definitely made bearable long ago, since I wired the connection to the incriminated Airport Express) until yesterday, when I received a new (brilliant) hi-fi furniture, and I re arranged all the equipment on it.
Today the Optical input coming from the Airport Express to my Bryston BDA-3 DAC has become unbearably stuttering.
From the Audio page in Roon settings I noticed that that Express base is listed under 'Other network devices', while the other Airplay devices are all under the more reassuring 'ROON Tested'.
Please See screenshot: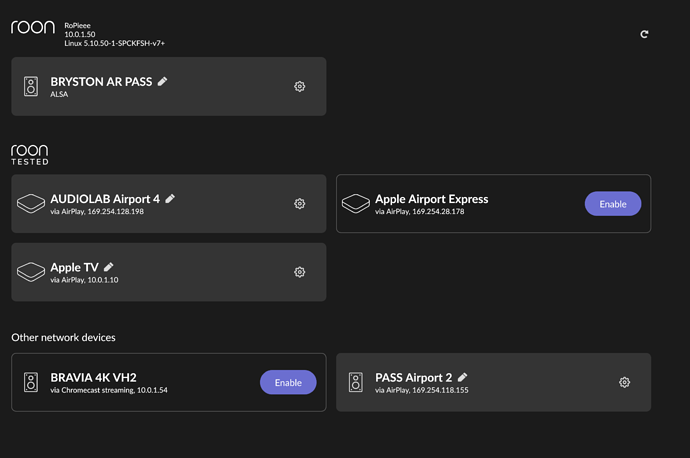 Before I start to check on each LAN cable I painstakingly laid down yesterday, I'd like to know if this
is ok or it's a clue to what's going wrong.
PS: the other systems attached to other Express bases work ok.
TIA