There have been posts about odd or unexpected search results, in effect omitting something We Know Is There. This issue has been hard to pin down because you can only confirm the issue by fixing the problem, to confirm that more was there than was first displayed.
This is related, and I'm hoping this helps the Roon team. After adding a Brother Dege album through Tidal, I then went into Roon and searched Brother Dege: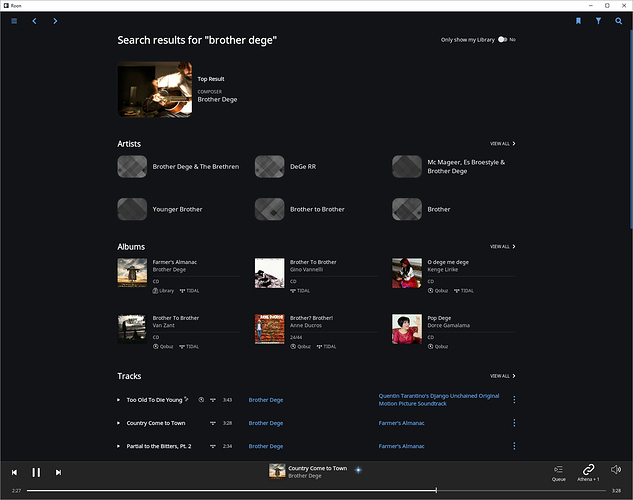 Note that the top result is only for Brother Dege as a composer. Why not artist?
Yes, there is also Brother Dege & The Brethren under Artists, but that's technically not the same artist, and if you click on that, you don't get results for all the albums by Brother Dege alone.
I don't think this is the expected or correct search result. Especially since Brother Dege as an Artist is already in my library.
Yes, I can click on the Composer result and get to his Composer screen and from there toggle to Performer and ultimately see the albums he has in my library and in Tidal. BUT, as mentioned in previous posts, at times I have noticed that the Performer/Composer toggle is not available with some until an album is added to the library.
There's a disconnect in there somewhere, Roon team, and it is hindering music discovery through Roon alone. It's weird, but I'm becoming pretty confident there is a bug somewhere.