Core Machine
Synology DS918+, DSM 6.2.4-25556, no extra RAM.
Network Details
Both the iMac and Synology are connected via Ethernet to a devolo dLAN 650 triple+ powerline adapter. Pings work fine from the iMac to the Synology:
seanslattery@iMac ~ % ping 10.7.151.3
PING 10.7.151.3 (10.7.151.3): 56 data bytes
64 bytes from 10.7.151.3: icmp_seq=0 ttl=64 time=0.373 ms
64 bytes from 10.7.151.3: icmp_seq=1 ttl=64 time=0.330 ms
64 bytes from 10.7.151.3: icmp_seq=2 ttl=64 time=0.385 ms
Audio Devices
iMac 27inch 2019, MacOS 10.15.5, Ethernet connection to Synology
Description of Issue
Roon client on iMac failing to connect successfully to the Roon core. When I start Roon client on the iMac it shows the "Choose your Roon Core" window with my Synology machine as an option to connect to. The status for Roon on the Synology is shown as Ready with a green circle. The core is described as "Linux 4.4.59+/10.x.x.x, Version 1.8 (build 790) stable.
I click Connect beside this Roon Core (the only one displayed) and I get the message "You're already signed in" and it tells me I've already setup another core and offering me the chance to Unauthorise my Roon core on the Synology.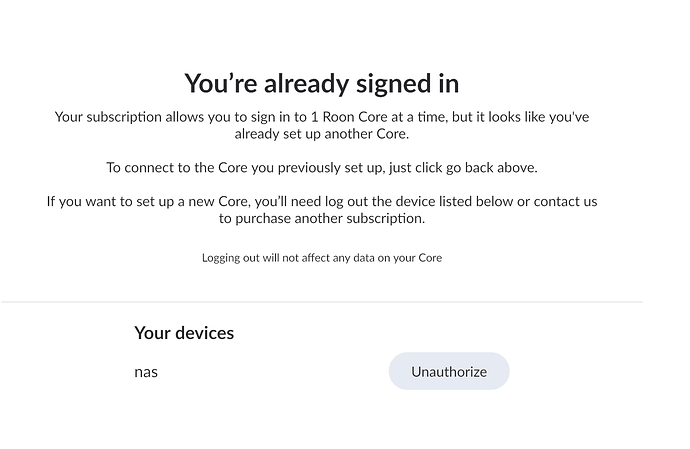 It says to connect to the Core I've previously set up, to click go back, so I do this:
Then the message I get is "There was an issue loading your database". I'm now stuck - Roon client won't respond and I have to shut it down.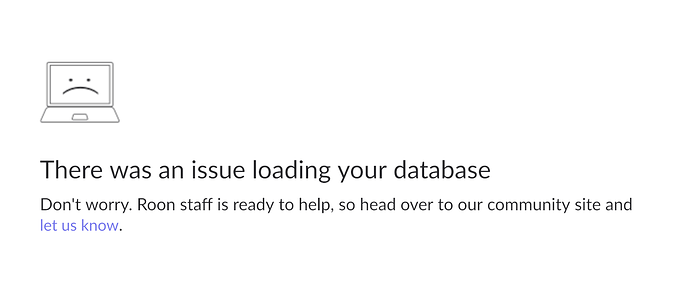 Roon was working recently and the only update I've made is to add another drive to my Raid on the Synology which appears to have been successful - I've not noticed any other issues.
Any pointers appreciated - the Roon Core appears to present as working when I start Roon client - it just cannot connect successfully.
Thanks in advance,
S.