Hello community,
i am currently testing (and setting up) Roon.
This is the audio setup I am primarily and currently using:
Computer: Mac Air w/ i5, 4GB Ram, 128 GB SSD, OS Sierra 10.12.3
DAC: the above mentioned Teac UD 501 (connected via USB)
The problem:
This DAC is listed in the category Roon Tested DACs, but Roon can't identify the DAC.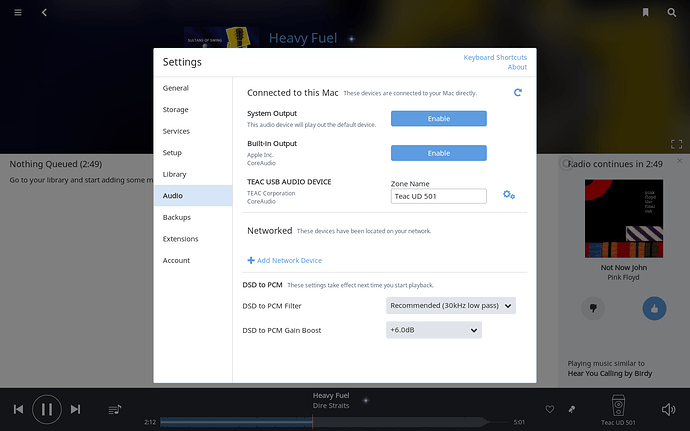 On the Screenshot you see this, I gave this DAC/ Zone the name "Teac UD 501".
If I didn't misunderstand something here, shouldn't it be identified as a Roon Tested DAC in the Settings Menu, and thus also show some additional information when clicking on the signal path?
I've restarted the PC, tried different ports. Firmware of the DAC can't be upgraded (correct me if I am wrong here, at least I found no information on Teac's website).
Or did i misunderstood this concept and is such additional information only shown when using devices different then DACs? Or is this only visible using Windows (might be something with the USB system? ) ? Or only when using an additional RoonBridge?
Thank you for your replies.