Like Luna, I would also much appreciate to have a pdf version of the guide.
Thanks, now I understand why my rip of ZZ Top's Recycler album doesn't show up!
Excellent work guys!


Now i can spread the word to quite a few potential customers!
Shouldn't this manual list some of the built-in limitations, like the 120-tracks-per-album limit?
For this guide to be useful, it needs to anticipate user questions. How could it omit something well-known to Roon that will come up for many users?
Thank you, thank you, thank you!
A fix for that is on the way! It will be a thing of the past soon enough

Any other limitations you think should be included?
Somewhere you really have to mention the fact that some users experience rapid unexplained decreases in the contents of their libraries. Watching the number of tracks decrease while knowing the NAS drive is properly (and currently) mounted. How to fix? What to do when it happens? How to restore?
Or better, a list of known problems experienced by multiple paying customers that have not been fixed. Simply an acknowledgement that Roon is aware of certain fatal problems and intends to address them.
Do really consider that kind of info suitable for a User Guide?
I strongly disagree…
Limitations, yes, but only such that are results of conscious choices made by the development team. To be quote honest, i actually dont see the need to support albums with more than 120 tracks either. How does your CD player react when you insert that disc?
Atb Mike
This is an official release purchased from HDTracks.com of the new The Rolling Stones in Mono, which has 186 tracks. Anyone who buys high-res box sets is familiar with the phenomenon in which labels choose to number all tracks from all albums sequentially.
But these songs are not ONE album per se, are they? Why not divide the separate albums into sub folders? (Disc1, Disc2 etc)
It seems to me that this is more of a problem with hdtracks.com and the delivery of the product.
Atb Mike
Ahhh, now it is really clear that you haven't bought any of those albums and are just making up your own hacks. Otherwise you would know that Roon often chokes if you try to split up the albums…for instance, I have the ZZ Top box from HDTracks. I split it into albums. Roon doesn't see it like that…it somehow detects that these tracks aren't the albums per se but the big download album and shows me the album title "ZZ Top Collection" (or whatever it is) for each of the ZZ Top albums, and gives me the same artwork for each of the albums…so, no, you really can't hack this without making Roon choke somehow…either it gives you crappy metadata (which happens to fit the product offered by the label; this isn't HDTracks' problem) or you leave it alone and then Roon can't display all the tracks.
Hence: Roon should be compiling and publishing a list of known problems reported by multiple users, so the customers realize they aren't going crazy, but Roon hasn't gotten around to fixing them.
I buy tons of compilation box sets from HDTracks, Van Halen, America, Yes, ZZTop, The Cars, the Doors, David Bowie 69-73, David Bowie, 74-76, and many others. I ALWAYS split them up into their original albums and Roon finds them and displays them as such; which I then tag with an album version titled the name of the box set.
Here is the latest box set, David Bowie Who Can I Be Now? 74-76.
The first is a shot of the how I split the files up on the watched drive: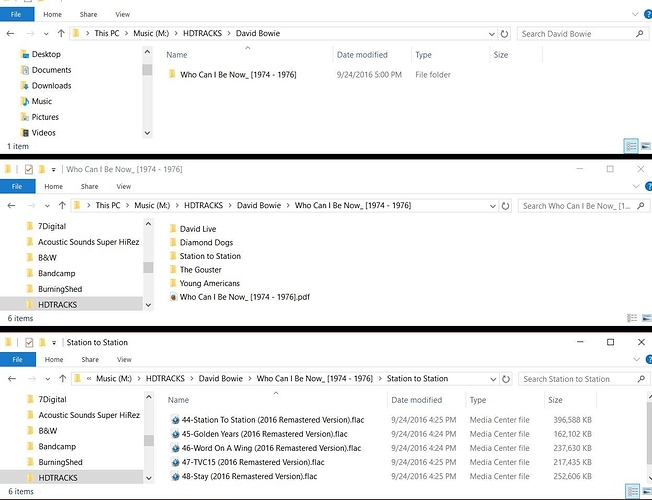 Then just to show you I did not change the meta data, here is the meta data in MP3Tag for station to station:


And finally, Roon showing the albums in their correct separation with my Album Version tagging

If you are having issues then feel free to PM about specific box sets and I will see if I can make suggestions so you have the same results.
Most boxes, that's what I do…and Roon is getting smarter. It now leaves my split of the ZZ Top box alone and doesn't usually mess it up any more. But not always. Same with the two Linda Ronstadt 70s and 80s collections and more recently with the Bowie "Who Can I Be Now" set…I think it is ridiculous that the labels put these out as one long album, rather than taking the time to split them and tag them properly. But, whatever, Roon is supposed to index official releases, and make distinctions between different versions of the same album, and I am confident that over time Roon will take these stupid label choices into account
Anyway, with the Stones mono box, it is just too confusing what with the various US and UK releases to figure out just how to split it up, then find the right album art, or make sure Roon gives me the right art, and…too much work! Besides, why should I have to split up that album just to get Roon to display all of its tracks?
so, I"m glad to hear Roon is fixing this in an upcoming release, but…really, a list of Known Issues is kind of a common and reasonable thing for a software company to do, especially one that invites as much customer input as this one does.
Known issues is, surely, why we have forums and online support. I would agree that there should be a specific area where known & current, unresolved, issues can be found but IMHO the user manual is not the place.
In the meantime, and back on topic, there appears to be a formatting error (on my iPad Air 2) at page:-
https://kb.roonlabs.com/Audio_Setup_Basics#Set_Max_Volume_at_Playback_Start
Paul, what's the issue - that page seems OK to me when viewed in the Edge browser on Windows? Thanks.
The table/box titled "System Output" appears to be concealing/overwriting some text:-
"You can always return the settings to their default state by clicking Restore Defaults. Nothing is saved until you click Save Settings so feel free to exit the dialog if you get things into a confusing state and want to undo your changes."
Then the table appears, and the next text reads:-
General Settings
Private Zone
---
I can reproduce & screenshot if required.
Ah, I see what you mean. However, that's just an artefact of the snip of the original screen, which wasn't clipped tightly to the Settings window border. There's no text on the user guide page that has been overlaid by the graphic. That text was on the original display from which the graphic was snipped…
Ok., I'll keep looking

Paul, thanks for pointing out the graphic issue. I've cleaned it up so that it's not confusing any longer. Cheers.