Yeah: The Specials and The Beat. Also 'old' Ska like Prince Buster, Skatalites
Nice speakers you have

Just saw the Specials on their 40th tour… amazing live band. The Beat are fab too. Also into some older Trojan Records stuff and newer Bands like the Hacklers… going to see the Hotknives soon…

I was a teenager in the UK in the 70's Ska was all pervasive so part of my upbringing.
Its just the same old song…on my radio
Fantastic subculture it was and still is…
I like a lot of the original ska and rock steady a lot, and some of the late 70's British (I love The Specials, saw the original band twice around '79 -'80, and again in 2010).
Of later stuff early The Mighty Mighty Bosstones is the only thing I've really liked.
Some great Stuff in that Playlist

Saw the Beat in '82 at Poole Arts Centre. High-energy and frenetic … especially their earlier material; everyone was buzzing.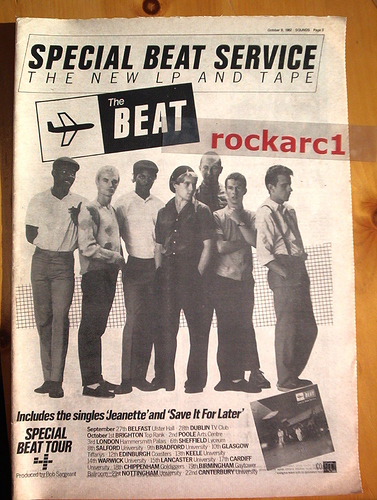 'Ranking Roger' Charlery passed away at the end of March from a brain tumour. The last stuff he did brought The Beat right back to the feel of their first LP. He was quite active right up until his death. I burned a few calories dancing to their stuff back in the day. Only 56, grew up on the same streets as me, same age.
Yes, I do like ska music from every wave.

Well - go on then everybody… name ya favorite Ska Band from each wave… first to third…
first: Skatalites (sure)
second: The Specials (with no doubt)
third: Dance Hall Crashers (with some doubt)
Dance Hall Crashers I have not heard of… will listen into their stuff…
Me would be
First - Laurel Aiteken / Skatalites
Second - The Selecter/The Beat/The Specials - draw
Third - The Hotknives/The Hacklers
Also very much into Ska with Punk or Punk with Ska influence…
Same as above for 1 and 2. Not up to date enough for 3.
The Specials 1st album first I bought. Amazing album. I saw them in 2009 when they first reformed for their 30th anniversary. Was amazing night.
Dance Hall Crashers I saw right about the time they released the Blue Plate Special EP.
First - Skatalites
Second - The English Beat
Third - Less Than Jake