I'm having a repeated problem playing from Qobuz to Bluesound Node 2, and Linn Sneaky DS.
Using Bluesound App and Qobuz I have not trouble streaming almost anything and all my playlists work.
Using LinnKazoo and Qobuz I can stream almost anything and all. my playlists work.
Using Roon on Qobuz I get "This track is currently not available from Qobuz" followed, often, by "Too many errors - stopping playback"
When I first noticed this I restarted the Roon Server on my core and it seemed to work fine.
Subsequently, restarting the Roon Server has no effect on this issue.
I have uninstalled Roon Server from my Core, and reinstalled it twice.
I have looked through the settings as best i can to see if there is anything obvious I'm missing. I can't see anything.
My Core is a Gigabyte J3455 with 8Gb RAM (DDR3L) running Windows 10 (64 bit). All service-packed to the teeth. It runs headless and is controlled via VNC from a 2019 iMac 21".
2X 500Gb HDD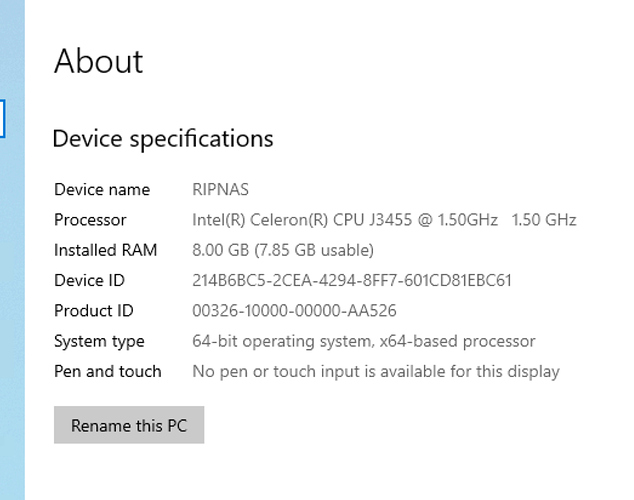 My Network is quite complex.
Apple Airport Extreme as b/u and DHCP server.
The Roon Core is connected via Gigabit Ethernet, as is the Linn Sneaky. The Bluesound Node 2 is connected via WiFi from a Unifi Access point controlled by a Unifi Cloud Key. There are four AP's on the wifi network.
On the ethernet are three Macs, three Laser printers, the Linn and three Apple TV's.
I use the un-routable internal IP addresses and my external connection is BT Fibre to the nearest connection box (just over the road). I get good upload/download speeds.
I haven't really changed anything in my system before it stopped working. I have of course looked at lots of things since in a bid to get things going again. But now I need some help/advice and would appreciate anything the community has to offer.
Many thanks, in anticipation.