Since build 416 my experience so far (fingers crossed) is that search is technically much quicker (but not particularly snappy). For example if I do a search on "Carmen Callas", then after 2 or three click throughs of option type screens I eventually can get to this screen which roon takes several seconds to build. Fair enough. Roon must retrieve a great deal of information.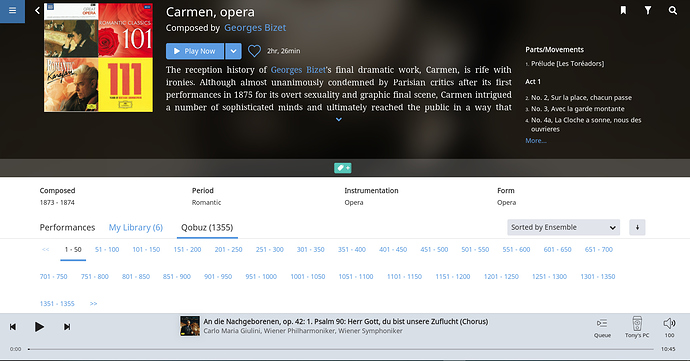 But Qobuz has 1,355 versions. So what now? I am looking for the 1964 Callas version, conducted by Georges Pretre. It's impossible. I am astonished that despite years of complaints about navigation of box sets, roon has implemented exactly the same navigation logic with the core Classical repertoire from Qoboz where it must be obvious that exactly the same usability issues arise.
On roon I gave up searching after 15 minutes as quite hopeless. On the Qobuz app when I do exactly the same search, I do not have to navigate through several pre-cursor screens and I instantly get to the following screen with this famous Callas version of Carmen at the top of the release list.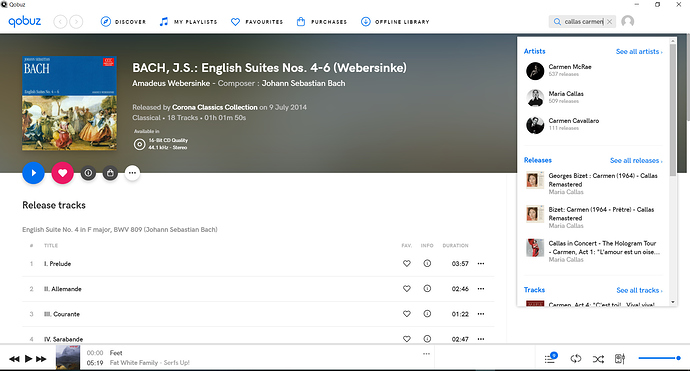 What this means in practice is that more and more I find myself using Qobuz to search and then get the result into roon via favoriting. But then I often find roon will have no or little metadata so what's the value add? This is very time consuming to fix and sometimes is not possible. There is obviously a benefit in reducing roon search retrieval from 30 seconds to 2 seconds but it isn't much use if you still need to spend another half an hour manually sifting through the roon retrieval results. I may as well just play it in Qobuz anyway.
There is a usability and human interface aspect to search as well as snappy pixels. It is not just a technical matter. Is this extremely poor navigation experience to be left unaddressed like box-set navigation, year after year?