Core Machine (Operating system/System info/Roon build number)
Synology 918+ NAS with Roon Server Running Roon 1.7 Build 667
Network Details (Including networking gear model/manufacturer and if on WiFi/Ethernet)
Everything wired up via Zyxel Gigabit Switch on a Amplifi HD router.
Audio Devices (Specify what device you're using and its connection type - USB/HDMI/etc.)
Roon Bridge running via ropieeeXL on a Raspberry Pi 3+
Denafrips Ares II connected via USB to Roon Bridge
S.M.S.L. SU-8
Description Of Issue
When streaming 192kHz MQA Music via Tidal the music stutters on the Denafrips Ares II (e.g. Stanley Turrentine - That's Where It's At). When using another DAC on the same setup (SMSL SU-8 for example) the same music can be heard without stuttering (same roon bridge etc.). The DACs are configured identically in Roon. When listening to non MQA music on the Denafrips the content can be upsampled to 768kHz with no Problem. Also 88.2kHz MQA music can be streamed without any problem. Only the combination Ares II with 192kHz MQA music creates stuttering.
Working: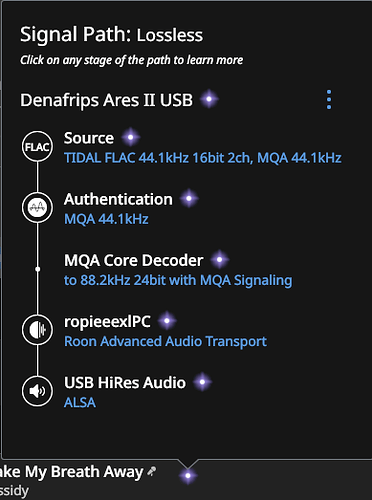 Stuttering: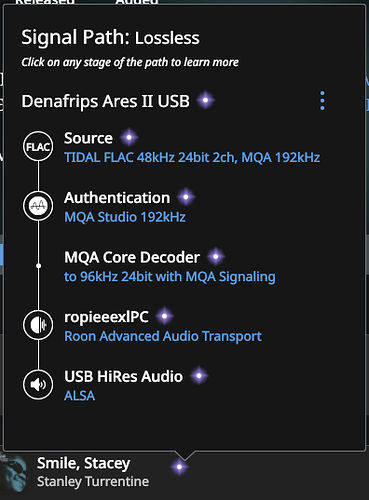 Same Music on different DAC with no Stuttering: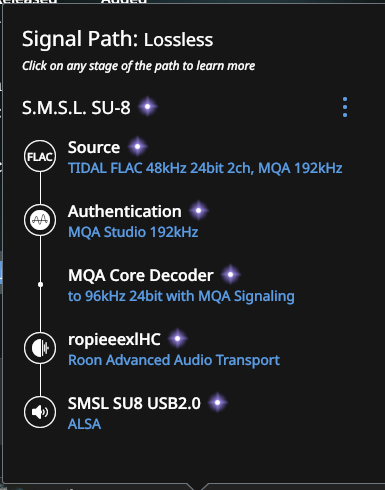 Non MQA on Ares II incl. upsampling and EQ with no problems: