sucks for those of us who enjoy listening to music on the weekend!
Suddenly Roon search with Qobuz not working at all, any recommendations?
Tidal, Qobuz through Roon restricted available. The apps of both work fine. Error message from Roon is: check network connection. Very slow search. Radio only local files. Overview is loading very slow, or not at all. On artist pages Tidal content surfaces after some time, Qobuz not. Strangely I can play Qobuz or Tidal content from my library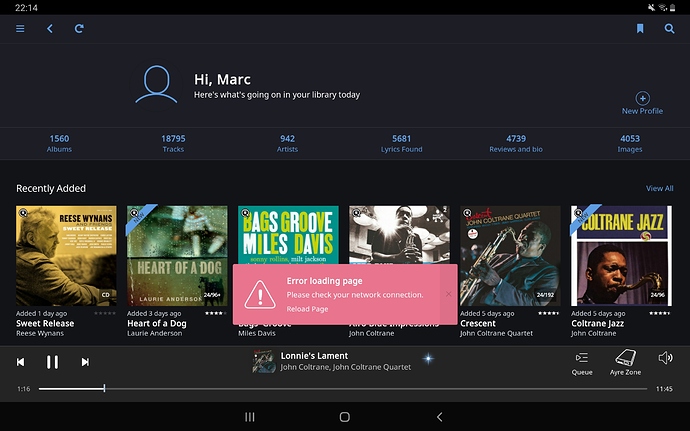 Tidal through Roon is loading extremely slow
using Mac OS Catalina
And Roon Radio still works… so I'm enjoying my favourite Roon feature.
Same here in Copenhagen… Tidal via roon is causing errors. However Tidal works fine on it's own. Believe the problem lies with Roon.
Hope they figure it out soon.
Running Core on NUK…
Hi Fonz,
Same here just updated this morning and my "Overview" page loads very slowly and shows the "Error Loading Page" window every time. This happens at my Core (Mac OS) and Remote (Windows7).
yes, have the same problem today but both on Mac and iPhone.
When trying to "browse" streaming content (Tidal/Qobuz) I get the above message - sometimes the list of albums is presented, albeit with several seconds delay and with this message displayed, but when trying to play say a selected album it is not possible.
However, selecting a Tidal album which is already part of the library works, the album is played successfully.
Yay! All running again here in Germany! Thanks Roon Team!
Back to normal.


Thanks Roon Team!
Qobuz work now again Thanks on the Roon Team.
Hi everyone,
Thanks for your patience while we've worked on this. The team has resolved the issue and services have returned to normal.
Apologies again for the inconvenience!
Thanks to the team to get a fix of this in reasonable time!
Well done guys
This topic was automatically closed 36 hours after the last reply. New replies are no longer allowed.