Core Machine (Operating system/System info/Roon build number)
Ubuntu 18.04.2 LTS. Intel i7-7700t, Asus ROG STRIX Z270I GAMING mITX motherboard, 16GB ram, Samsung 960 EVO 500GB M.2 + 2TB SSD. Roon version 1.6 (build 416) stable (64-bit).
Network Details (Including networking gear model/manufacturer and if on WiFi/Ethernet)
Roon Core connected (wired) to Zyxel Multy Plus, which is connected (wired) to Sagemcom F-3686ACv2. Connection speed 400Mbps.
Audio Devices (Specify what device you're using and its connection type - USB/HDMI/etc.)
Roon end point Sonore microRendu, which is connected with USB to Marantz SA-10 serving as DAC. MicroRendu is connected (wired) to Zyxel GS1900-10HP switch, which is connected (wired) to another Zyxel Multy Plus -unit, which is connected with a wireless connection (wifi) to first Zyxel Multy Plus -unit that has wired connection to the Roon core.
Description Of Issue
All my files located on my Roon core play without problems (fast, no dropouts). However, everything with TIDAL happens very slowly. If a select a song from TIDAL (with Roon) to be played (either to microRendu or to my iPad Pro which I use to control Roon) it takes several minutes (2-5 minutes) before the playing actually starts. When the play starts, it is usually flawless (no stuttering or dropouts). But the starting is just very slow. And this wait typically happens in the same way for the next song etc. I have tried several reboots for the core but no change. TIDAL with Roon has been slow also earlier, but not this slow. This level of slowness has been there for at least one week. Roon doesn't usually complain anything, once or twice there has been a message saying that TIDAL is slow and there might be network problem. Here is a screenshot of my signal path: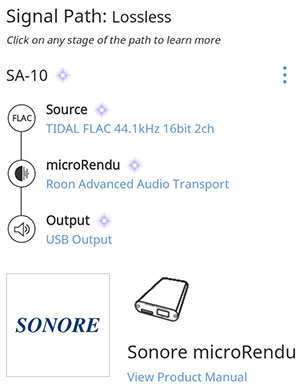 If I play TIDAL with TIDAL app in my iPad Pro in the same wifi network there are no problems (very fast), the same applies to TIDAL with Win 10 browser in my PC connected to Multy Plus similar to microRendu. My roon core machine can access net without problems and download files very quickly.
In other words, everything is working fine except TIDAL with Roon.