Roon Core Machine
Hardware: IntelNUC 8i7 BEH2, with 2 GB RAM, SSD HD for Roon Rock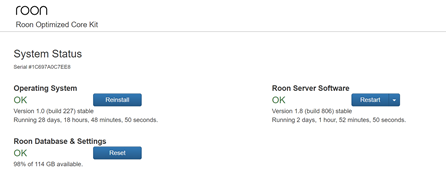 Networking Gear & Setup Details
My NUC is connected through ethernet cable to one of the DECO units on the 3rd floor. Through mesh wifi it is connected with other DECO unit on the 2nd floor (which acts as main mash node) and my Chord Poly streamer in living room is connected through wifi with DECO unit on the 1st floor


WiFi connection with newest mesh TP-Link Deco X20 with huge bandwidth (wiFi 6, dual band, 1800 Mb/s),
Internet with optical fiber network to my house with checked 300Mb/s
Connected Audio Devices
• Living Room: Chord Poly (through RAAT) with Moly Dac connected to amp and speakers
• Sleeping Room: Sonos One (through AirPlay)
My remotes are Iphone 11, Iphone 7, Tablet Huawei AG52
Library Size
• My music is stored on Synology NAS 218+ as well as I am using Tidal,
• I have 4937 tracks on NAS and 1514 tracks on Tidal
Description of Issue
Unfortunately I am continuously having issues with "Tidal media is running slowly. This may indicate a networking or connectivity problem".
I thought it is a network issue so I:
completely changed my network to the newest mesh TP-Link Deco X20 with huge bandwidth (wiFi 6, dual band, 1800 Mb/s),
Upgraded my optical fiber network provider form 100Mbits to 300Mb/s
So for sure it is not related to my network speed.
After I upgraded it happens not so often but still occasionally, somtimes once an hour, sometimes less frequently. Track then stops and moves to the next song that works ok. When I put back the track that stopped and generated problem, second time it works ok and could be played without interruption – so it is not related to any particular song/resolution.
Please see below screenshot: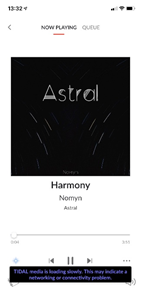 My signal path is the following: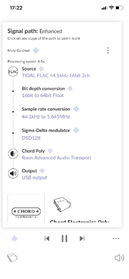 I checked also many threads with similar problems - and I checked it is not computing power as it never gets below 4,5 so it should not ne my dedicated IntelNuc which is Intel i7 with sufficient RAM.
Last time it happened today around 10.00 AM CET.
Please let me know as it is very upsetting. Thank you in advance! Lukasz