Core Machine
WRITE HERE
QNAP NAS TS-453A (QTS 4.5.2.1630)
Roon Server Version: 1.8 (build 790) stable
QPKG-Version : 2021-02-01
ffmpeg version : 3.3.6
Network Details
WRITE HERE
not related to my issue
Audio Devices
WRITE HERE
Tried PS Audio Direct Stream DAC, Sonore MicroRendu and Samsung Note9 cell phone. same issue.
Description of Issue
WRITE HERE
I tired Tidal hi-fi trial with exactly the above described settings of Roon server and audio renderer and Tidal played flawlessly. Then I subscribed to Tidal premium (not Hi-Fi because i spend small amount of time on Tidal only when i need to check on music that I don't have in my own library). however I have issue playing all Tidal albums all the time.
the issue is that after i press play button, the progress bar stays at 0:00. And there is no sound. i attach a screen shot where you can see also the signal path. it's a bit strange to me that the AAC file is being played at 24bit. looks like hi-res format AAC! probably something is wrong here?
btw, Tidal app plays its albums in AAC format on my samsung phone without issue. I tried to play the same albums from Roon app on the same phone to output to the phone and the same issue occured. signal path is almost identical except my phone replaces PS audio DAC.
let me know if I can provide any additional useful information for troubleshooting.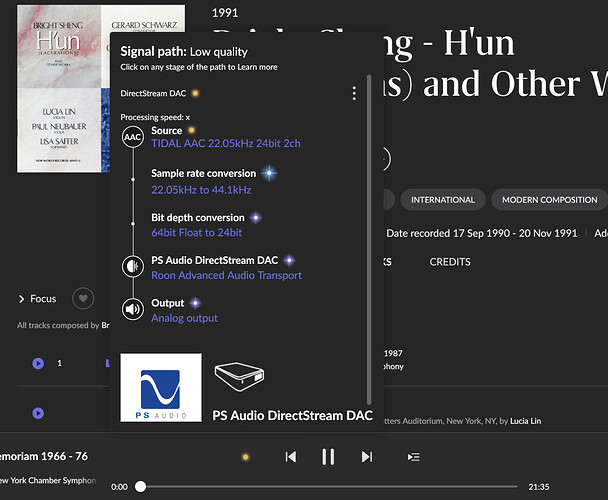 thanks Sam