Core Machine
Windows 10 Home version 20H2 (OS build 19042.985)
Roon version 1.8 (build 790) stable (64bit)
Audio Devices
NAD C 658 BluOS Streaming DAC
Audioquest DragonFly Cobalt
Description of Issue
I still keep seeing quite a few songs marked as "unavailable" while it's available on Tidal and other appls luke BluOS and USB Audio Player Pro. Here's a new example from Jorja Smith's new album: "Be Right Back", as seen here: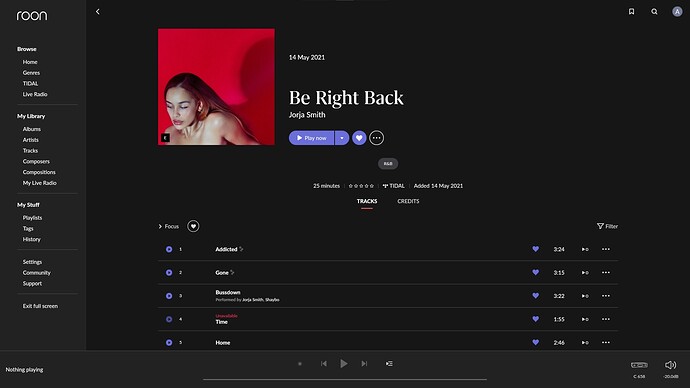 Some songs have been marked unavailable for a year or more, like Marvin Gaye's album "Live At The Palladium" in MQA 192Khz, as seen here: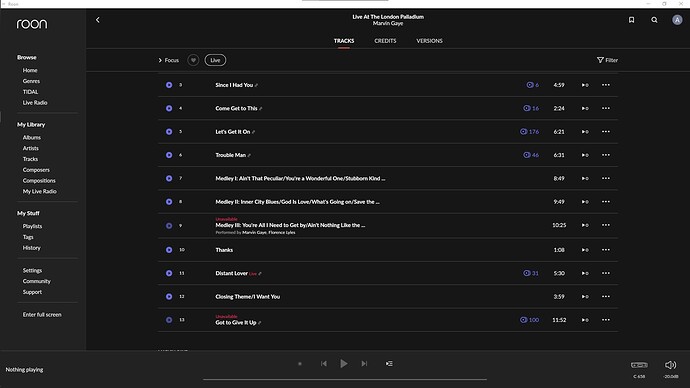 I mentioned the missing songs in Marvin Gaye's album last year, and it still hasn't been resolved. Could you please resolve these kinds of issues ASAP so this won't happen again? Not being able to play available songs on Roon is definitely a deal breaker, especially if issues like this keep persisting.
Thank you in advance for your support.
Kind regards,
Arash