Hello @dylan ,
I guess it's related to the Win10 PC and yes, it happen on all endpoints because the machine with the core seems to be the problem.
Sorry I'm new here and have no clue how your support works and where do I have to answer.
I read a little bit and I'm not a hero in English.
Let me start with my system.
Internet connection with 1000Mbit/s via cable (quite stable), Fritzbox 6591 with Fritz!OS 7.21 (latest Update from Vodafone cable), 1000Gbit Ports on all related gadgets, min. CAT6 cable, PC with MSI B550 Mortar MB, Realtek 2,5GbE Family Controler, 32GB RAM, 500MB SSD, Ryzen 5 4650, WIN10 (20H2), no open updates, mainly no other activities during playing music. Roon core running on this PC. NAS QNAP TS-212 with 2 x 2TB Seagate HDD for Music storage (most CD quality and 24bit high res audio files, Bluesound Node 2i with latest 3.13.5 BluOS update, Roon 1.8 (Build 783 and now 790).
Stopps and skipps/jumps to next title happens on Tidal and NAS streaming on all endpoints at different times just if roon is playing. ping -t 8.8.8.8 request shows nothing really special. No interruptions via BluOS or Tidal connect App with same titles/quality from both sources.
Internet cable conneciton to the router almost always >1000Mbit/s, but speed between router and PC not always that high and drops down a lot during roon core is running (I have on clue why). I had exactly the same issues with another router Fritzbox 6490 and a 100Mbit/s connection.
On April, 19th I created this screen shot and also a short log file.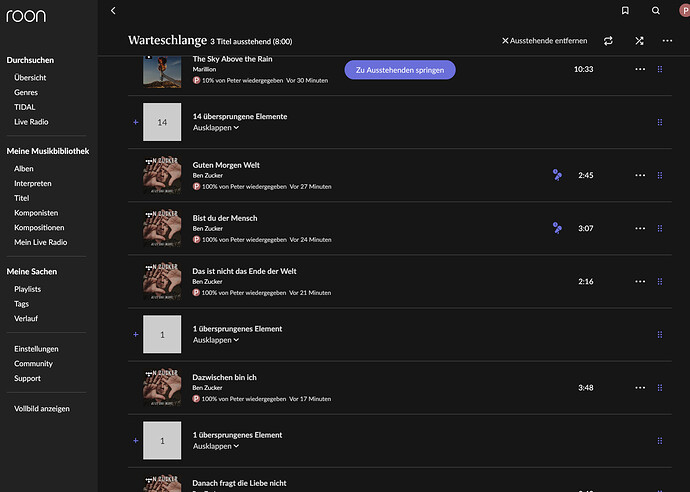 How shall I share the log file (76kb)? I have no dropbox or something like that.
Thanks a lot in advance.
Peter