Core Machine (Operating system/System info/Roon build number)
NUC (i3-7100)/4 GB RAM/ Windows 10 Home 64bit/ Roon 1.7 (build 610)
Network Details (Including networking gear model/manufacturer and if on WiFi/Ethernet)
Ethernet connected.
Audio Devices (Specify what device you're using and its connection type - USB/HDMI/etc.)
Nuc connected via USB 2 to Motu 8A DAC.
Description Of Issue
Tracks available in Tidal (through Tidal app) show up as unavailable in Roon.
For eample: Juno- Music from the motion picture .Track 1,2,5 are available in Roon, but not tracks 3,4. All tracks are availble if c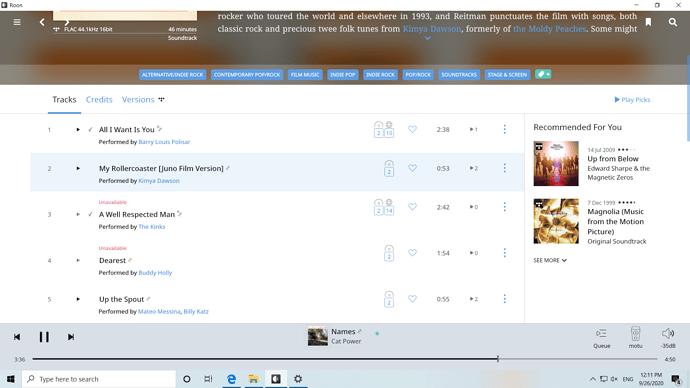 onnect directly to Tidal (outside of Roon).