Core Machine (Operating system/System info/Roon build number)
432 EVO music server, Custom 64 bit realtime OS, RoonServer v1.7 (build 610) stable on linuxx64
Network Details (Including networking gear model/manufacturer and if on WiFi/Ethernet)
N/A, Qobuz works
Audio Devices (Specify what device you're using and its connection type - USB/HDMI/etc.)
Squeezelite via builtin Squeezebox support in Roon
Description Of Issue
Customer can search any track on Tidal and add it to the library, but none of his 55 albums are working, always gets the error as follows: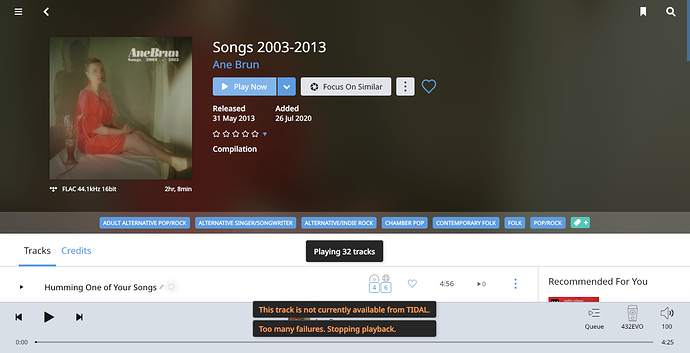 We asked if this issue was with one album or more, but customer has issue with all of his Tidal albums. Also happens with anything new he tries to add and play.
So far none of the other 432 EVO customers have reported this issue.
We tried the logout/login trick which was shown somewhere on this forum, but that did not work.
If required we can send the Roon logs.