Sorry, Andrew. I meant to ding Roon staff, not you.
But thanks. And yes, I did quit RoonServer.
All ----- Please be advised that we believe that we have identified the cause of this problem and a fix has been set into place for 1.3. We greatly appreciate your patience.
-Eric
@support,
I have the same issue 07/12. As 1.3 is likely days/weeks away can this not be solved sooner? This is core functionality
Playback stopped …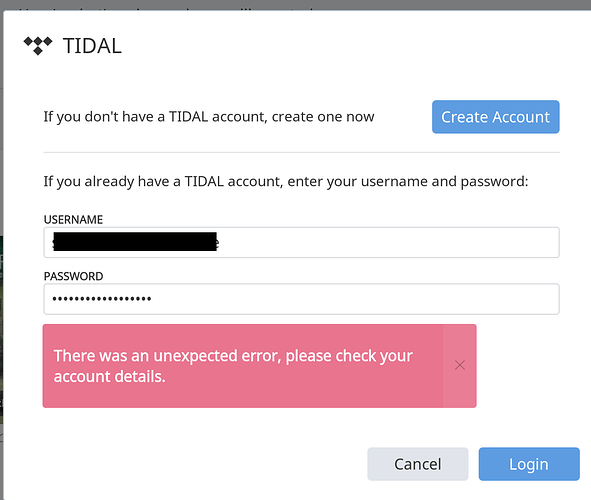 No issue whatsoever using Tidal app on Mac and iPhone. So nothing wrong with my account details.
Core is a NUC running Ubuntu 16.10
If you are encountering this error on a linux-based core (includes Synology, Qnap, Sonic Transporter) then the following workaround may get you going.
You need to re-start RoonServer twice in succession. Don't reboot your core, just stop the Roon package and restart it (Synology, Qnap, Sonic Transporter). Wait until your remote reconnects and then stop and start again.
If you're running a native linux install then stop and start Roon using systemctl.
Best to count to 10 between the stop and start just to give all of the processes a chance to exit cleanly.
And if you didn't catch it above then I'll reiterate. You need to stop and start Roon TWICE. No need to mess with the Tidal login or your cache directory.
Give it a shot… I'll bet it works

The technical explanation for this is that after one restart the gremlins start to regroup and rally and that's just when the second restart takes them by surprise …
OMG the two restarts in a row worked! STi5 core. Thank you. I had tried everything else including all the cache deletes etc.
I am having this issue now as well. Unable to login to tidal with the 'unexpected error' message despite deleting the cache folder and restarting multiple times. I am able to login to my Tidal account fine from a browser or smartphone app. Core running in an Ubuntu based docker container hosted in unRAID 6. Core, app all updated to latest versions.
Wow. Andrew P's suggestion of two consecutive restarts (without trying to login to Tidal in between) did the trick!
Hey all – we are investigating this issue and making progress, but we're still gathering information to confirm everyone's symptoms are caused by the same underlying issue.
We would like to see logs for everyone experiencing this problem. Since everyone having this issue is on Linux, what would be great is if you see this issue, first click Retry in Roon.
If that fails, note when this issue occurs, then zip up the /logs folder in your /Roon Server directory.
Then, just drop a PM to @support with a dropbox link (or similar) to to the zipped log folder, along with a timestamp for when the issue occurred. If you don't have access to dropbox, just let us know and we'll give you a way to upload the file to our server.
Thanks all, and again sorry for the trouble here!
I hesitated in posting my workaround as I didn't want that to impact @support's ability to troubleshoot and fix the problem.
Please, everyone, send logs as @mike requested!
Andrew does one perform the double reboot trick when (eventually) logged in or when login has failed?
Also in linux specifically what process are we killing?
Cheers
This is a workaround if you are currently experiencing a "Tidal Login Error" or a Roon login error. (Both are ultimately related). If you're getting one of these errors you won't be able to login no matter how many times you try.
You don't want to kill anything. Killing one (or more) of the Roon processes could make your situation much worse.
You need to use the service start / stop procedure that is correct for the version of Linux that you are running. Most newer releases are using systemctl otherwise you'll use service.
On my Ubuntu 16 system I use:
sudo systemctl stop roonserver
and
sudo systemctl start roonserver
to stop and start RoonServer
If you're running a distribution that is using upstart then you'll use:
sudo service roonserver stop
and
sudo service roonserver start
One or the other command set will work.
many thanks
i have webmin on my debian 8 server so can stop/start roonserver.service remotely with that
all good now, thank you
I cannot login to Tidal. I get an error "There was an unexpected error, Please check your accouynt details". Have stopped/started the Roon app on the ST to no avail. I can login to the Tidal web page with no problems.
Yep. I alkso rebooted the ST and then tried again stopping/starting twice. I also get an error on the Roon Account tab on the remote: "Error retrieving Account information"
Checking the Roon diagnostic log I see the following error:
12/10 12:43:04 Warn: Error in web request https://accounts5.roonlabs.com/accounts/3/machineallocate: NetworkError (Error: SecureChannelFailure (The authentication or decryption has failed.))
Thanks. I tried the double stop/start yet again but it remains the same. It seems there is no Internet access from the ST, although access across the LAN is OK. And, everything connected to the same switch (Bryston BDP-1, PS Audio P10) is connected to the Internet with no problems.
Hi @Gustavo_Gabaldon ---- Thank you for the report. I went ahead and moved your report over to this thread to keep this issue consolidated into one spot. Please see @mike's post above, thanks!
-Eric