i can reproduce, we made these dialogs faster… looks like we broke track editor. this will be fixed in what im sure will be a new bugfix build very soon.
Thanks for working on this Danny. I originally went on a trial on Roon when you launched last year. Didn't pull the trigger due to lack of iOS support. Just signed up last night and have been impressed thus far. Only issue that I have seen thus far is a huge number of albums that were exported from my QNAP (sooloos files) have been unidentified and I'm now in the process of having to re-edit tracks, disc's number etc. Other than that, I've been impressed thus far.
Really looking forward to this fix as I've also been affected. How else am I gonna "pick" my tracks

While you are at it, can you make it possible to edit multiple tracks sequentially by clicking "next track" button instead of having to go out and back in for each track? This is a very clumsy and tedious way if I have to edit a dozen tracks in an album. I had made this request earlier but was not implemented in the current build.
This should be fixed in Build 128 guys. Let us know if you're seeing otherwise.
Thanks!
I'm using Roon Server while using iPad for remote. Normally when long press a track it will bring up track editor after I select top right hand corner 'EDIT' however the track editor shows a blank on my iPad.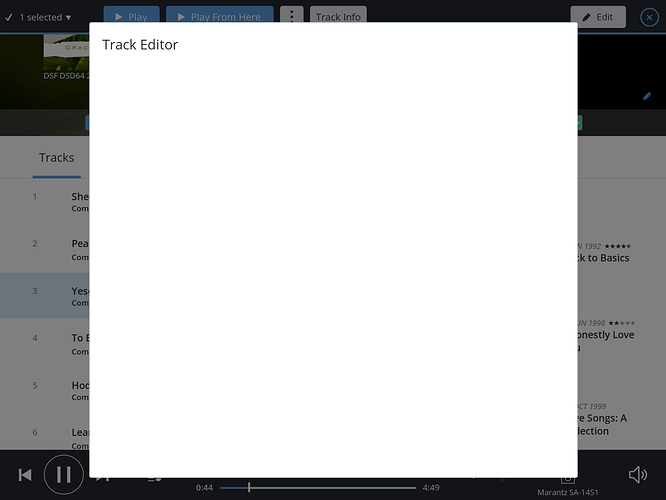 Hey @MusicEar – this is fixed in Build 128, which is currently waiting on App Store approval.
For now, you can wait until the new version is approved by Apple, or you can do these edits on any platform that's not iOS.