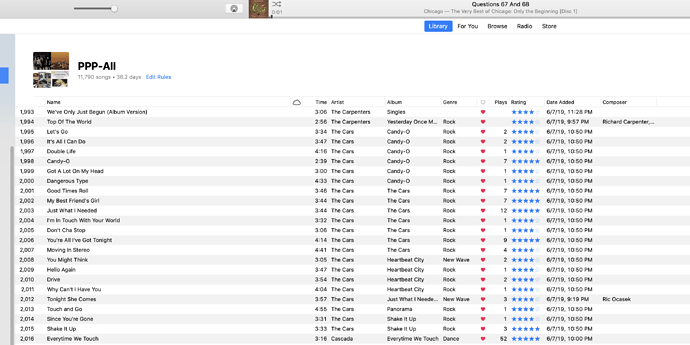 Core Machine (Operating system/System info/Roon build number)
Macos Mojave, Roon 1.6
Network Details (Including networking gear model/manufacturer and if on WiFi/Ethernet)
TEXT GOES HERE
Audio Devices (Specify what device you're using and its connection type - USB/HDMI/etc.)
TEXT GOES HERE
Description Of Issue
Arg, another itunes integration issue.
I have Roon monitoring my itunes dir.
It's finding my playlists etc.
I have smart playlist "PPP-All" that includes the tracks from all my playlists.
They have about the same number of tracks between the itunes playlist and its version in Roon, so I thought Roon was doing a good job about duplicating my itunes playlists.
But today I decided to listen to my favorite Cars tracks.
Went to roon -> playlists -> ppp-all
filter by "cars" in artists column.
It shows 1 track.
The itunes playlist has 21.
The albums seem to be in roon and the tracks, but just aren't showing in the playlist.
Any thoughts on how to debug this?