Hello Roon-Team,
(i had already contacted the Roon support on the Roon homepage a few weeks ago …)
thanks for the new update 1.8 (build 764)
Great new look and also the new FOCUS function is excellent.
I've been a Roon user since December last year and use the software with Nucleus as the core, every day!
I am very impressed and enthusiastic about the performance (setting options and above all the sound !!) … really excellent.
Qobuz and Tidal are also integrated, that's great.
With the change to 1.8, unfortunately, when the application was started, the quote of a musician was dropped

… that should have stayed …
One question is still dear to my heart:
Is it possible that you will be able to incorporate a translation option in the next major update?
Would be really perfect, because they have great biographies and you could have that translated!
For example, using Google Translate would be a possibility. It would be helpful if the texts could be transferred to a translation program using copy and paste.
Unfortunately, Roon won't allow that. Couldn't you include that in the next update?
Then Roon would be perfect for me😉
Enclosed is a suggestion for improvement.
Thank you very much for your feedback and best regards from Mainz (Germany).
wolfgang
Suggestion for improvement:
I work a lot with the album editor and the title editor.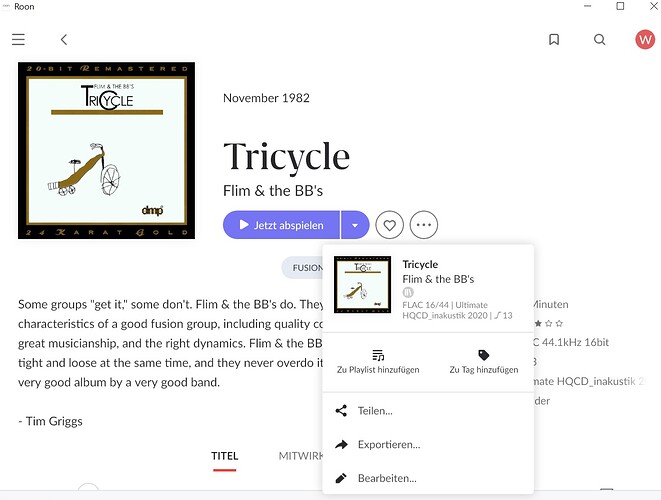 If you combine the two functions in one menu, you can edit the album more easily and quickly.
….see Screenshots