Good morning everyone,
today I was trying to translate some texts from English to my native language (Italian) and I discovered this wonderful engine : DeepL
Guys translate from English to Italian has always been hard for all translation engines but this one borders on perfection.
I wanted to ask if you could take it into account in a future relese or beta: maybe you can use the api and with a little button to translate on the fly the text so you can read it in our language.
Thank you in advance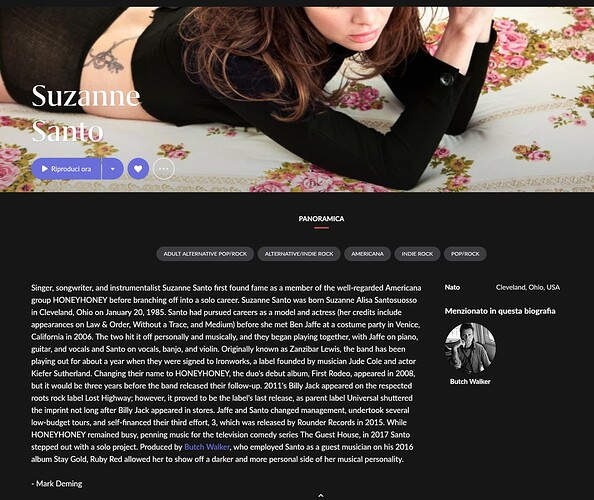 La cantante, cantautrice e strumentista Suzanne Santo ha trovato la fama come membro del ben considerato gruppo Americana HONEYHONEY prima di lanciarsi in una carriera da solista. Suzanne Santo è nata Suzanne Alisa Santosuosso a Cleveland, Ohio, il 20 gennaio 1985. Santo aveva perseguito una carriera come modella e attrice (i suoi crediti includono apparizioni in Law & Order, Without a Trace, e Medium) prima di incontrare Ben Jaffe ad una festa in costume a Venice, California nel 2006. I due sono andati d'accordo personalmente e musicalmente, e hanno iniziato a suonare insieme, con Jaffe al piano, chitarra e voce e Santo alla voce, banjo e violino. Originariamente conosciuta come Zanzibar Lewis, la band ha suonato in giro per circa un anno quando sono stati firmati per Ironworks, un'etichetta fondata dal musicista Jude Cole e dall'attore Kiefer Sutherland. Cambiando il loro nome in HONEYHONEY, l'album di debutto del duo, First Rodeo, apparve nel 2008, ma sarebbero passati tre anni prima che la band pubblicasse il suo seguito. Billy Jack del 2011 è apparso sulla rispettata etichetta roots rock Lost Highway; tuttavia, si è rivelato essere l'ultima uscita dell'etichetta, poiché la casa madre Universal ha chiuso l'impronta non molto tempo dopo l'apparizione di Billy Jack nei negozi. Jaffe e Santo hanno cambiato gestione, hanno intrapreso diversi tour a basso costo e hanno autofinanziato il loro terzo sforzo, 3, che è stato pubblicato dalla Rounder Records nel 2015. Mentre gli HONEYHONEY sono rimasti occupati, scrivendo la musica per la serie televisiva The Guest House, nel 2017 Santo è uscito con un progetto solista. Prodotto da Butch Walker, che ha impiegato Santo come musicista ospite nel suo album del 2016 Stay Gold, Ruby Red le ha permesso di mostrare un lato più oscuro e personale della sua personalità musicale.