Playback stops and the subject error pops up. This is on a windows 7.
Any suggestions how to fix this?
Hi @Rich_Volkerding ---- Thank you for your feedback and sorry you are experiencing this issue. In order for us to understand what could be happening on your system could you please describe, in detail, your current setup. The more information we have, the easier it will be for us to start troubleshooting the problem. Thank you and I look forward to your response.
-Eric
I have the same problem.
Roon on a Qnap TS-453-Pro. HQPlayer on my W10 HTPC. MicroRendu. hiFace EVO USB/SPDIF converter. iPad as control. Tidal. Latest HQPlayer beta. Latest W10.
It can happen after an hour or after 24 hours.
All ip are fixed by using ipCop. (Not iPad).
I only play PCM. Upsampled 24/192.
I normaly fix this by restart HQPlayer in the microRendu web interface, and then press "Allow control from network" twice in the HQPlayer application using RDT from my iPad.
Is there any setting or other SW that may cause this to happen ?
Any suggestion how to understand the problem ?
It seems to me it has to be some sort of a network issue.
I would like to install HQPlayer on the Qnap as well, but so far I have not fund guidance how to do. (In Container Station).
Without HQPlayer in my chain, I do not have this issue.
My local files are on a different server 2008R2 on another switch if that matters.
Can moving them to Qnap make any difference. If yes, why ?
Hi all,
I have constant problems with roon while changing between songs of different bit/khz rate. For example: While playing a song in 16/44.1khz and then selecting another song with 24/96 /88,2/192 or DSD roon stops playing, giving an error message: "Transport: Roon lost control of the audio device". After pushing the play button again the song starts normally. This happens with all kind of samplerate changes. The audio device is a McIntosh C47 connected via USB to a Roon Core Installation on a Lenovo A720 64bit PC. With JRiver and Foobar installed on the same PC the change between sample runs without problems. All use the same USB and exclusive mode connection (not at the same time

!). Do you have any advice for me?
Thx Rob
Hi @robert_blens ---- Thank you for the report and my apologies for the troubles here. May I kindly ask you to provide me with the following:
A screen shot of your audio settings in Roon you are using for the McIntosh C47.

Can you verify if you are experiencing the same issue when streaming TIDAL content?

Please confirm where your collection is stored/being accessed from (i.e. NAS, local, external).
-Eric
Was there ever a resolution to this issue? It's been happening with me when I use the ASIO driver.
I have installed the latest 196 as a clean install. Same problems too. First see audio devices. Then after a short while, they are all gone. So are my Tidal playlists.
I'm not able to upload logfiles here.Why ?
Hi @Eric ---- sorry for delay,
here are the answers and the pics you wanted.
DAC MC C47 - everything seems to be green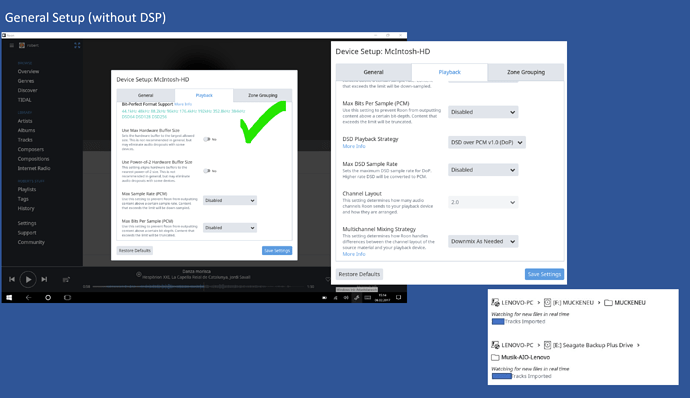 2.) Yes the transport message appears also while swichting between Tidal and my librarymusic, when sample rate changes.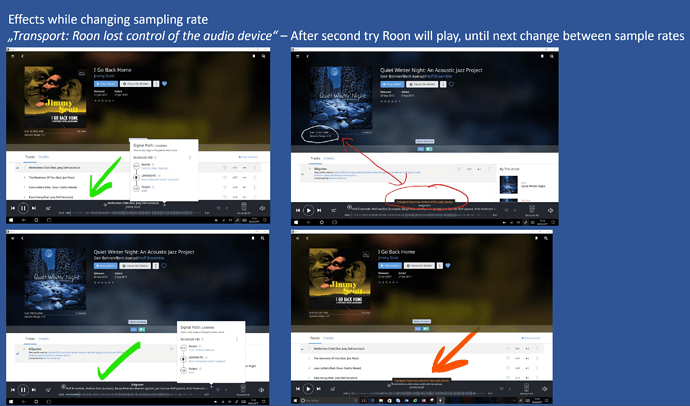 3.) my collection is stored on external hard drives, which are attached to my PC
In addtion: When using the new DSP upsampling features there is no such behaviour - everything works fine
Best Robert
Hi @Robert_Blens ----- Thank you for the follow up and the screenshots. Both are appreciated! Can you verify for me if you notice this issue when you play directly out of the Lenovo A720's internal speakers?
Furthermore, can you send me a screenshot of the DSP upsampling settings you are using that allows for consistent playback.
-Eric
Hi @Eric - there is no issue while playing via the internal speakers , and the DSP Setup that works without any problems is a simple "Max PCM rate" with "Minimum Phase" Filter.
Hope this helps.
Robert
Hi @robert_blens ---- Thank you for the follow up. This is a good data point here as we know the application is able to switch between sample rates without issue while playing through the internal speakers.
Moving forward, I would like to check one more thing to see if we trigger another change in behavior here. I understand from your feedback that you library is being accessed from some external hard drives mounted to your PC. Can you confirm if this same behavior is exhibited when playing content back from your local hard drive?
-Eric
Hello @Eric,
just tested it with the local drive and files with different sampling rates. Same behaviour like before. With every switch I get the " roon lost control of audio device" message. After second click - it plays with the exact sample rate.
Best Robert
Hi @robert_blens ----- Thanks for the feedback and verify that information for me. I would like to grab a set of your logs so they can be evaluated by one of our developers. I will be contacting you shortly via PM with instructions.
-Eric
Please let us all know what the outcome is here

I'm demoing a C47 and I've seen this issue when using ASIO as well. Has there been any movement or is this something that you need the hardware to fix? @Eric ?
Hey guys – Eric is still waiting on a PM response from the original poster here, so I'm going to close this thread.
@extracampine @DrTone if you are seeing the same error, can you both start a new thread with the usual details?
Thanks!