Let me show you one album, d'Indy Symphonic Works, Vol. 1. It is recognized by Roon:


and here are the relevant tags (from Yate app) from the raw files: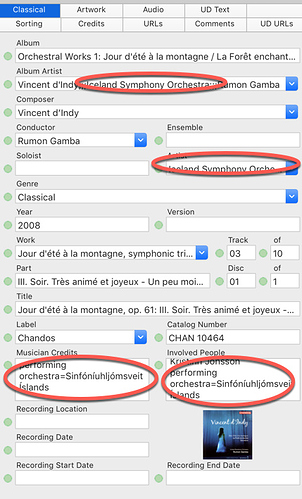 Out of this, Roon displays these credits:

Here are my objections:
The "performing orchestra", "Orchestra", and "Primary Artist" listings are redundant. Experience tells me that Roon displays Orchestras and Conductors quite well without the Primary Artist tag added to them. I would prefer just one listing and treatment, the Orchestra one.
The 'performing orchestra' tag should be treated by Roon as an Orchestra tag, without duplication in the Credits list (IMO). Musicbrainz uses this tag extensively, and these are particularly troublesome to edit because they are in one or both of Musician Credits or Involved People.
Primary Artist tags for Conductor and Orchestra are redundant, IMO. They clutter without purpose. Or perhaps I don't understand why they are present.
Great job by someone (Roon?) somewhere (on import or upon album recognition) in translating "Sinfóníuhljómsveit Íslands" into "Iceland Symphony Orchestra" (Symphony of the Ice Island?)
To summarize: 1) treat "performing orchestra" tags as "Orchestra" tags on import; and 2) do not create Primary Artist tags for either Orchestra or Conductor.