Roon Core Machine
Nucleus plus
Version 1.0 (build 227)
Networking Gear & Setup Details
Router is Zyxel EX3510-BO
The switch is Netgear Prosafe 16 port 10/100 Switch, Model FS116
Nucleus plus and both Window 10 PCs are connected to the network via ethernet
Connected Audio Devices
Gold Note DAC via Wifi
Benchmark DAC with Raspberry Pi Roon endpoint via Wifi
Yamaha AV Receiver with Apple Airport Express via WIfi
Number of Tracks in Library
31889 tracks
Description of Issue
I am trying to add a network share for a backup location but keep getting the same error message: "There is an Unexpected error: UnexpectedError".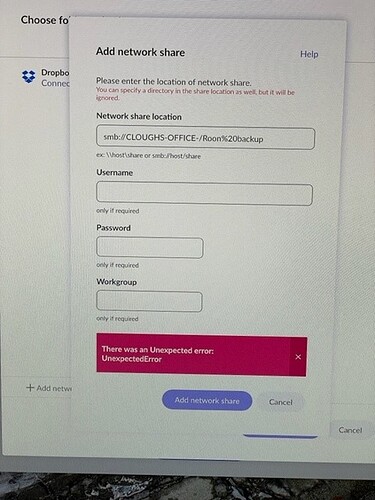 I have shared the intended folder location on two different PCs and get the same result.
Folders on both PCs show that they are shared (read and write for everyone).

After I took this photo, I also turned off password protection for sharing but got the same error message.
Thanks for your help.
Clough Shelton