I am unable to connect to Roon. This problem occurred after
a recent iPad update. Can you help?
Jim
Hi @james_King1,
In iOS settings does Roon have permissions for Local Network? You can find this by going to Settings - Privacy - Local Network. Thanks!
1:02 PM (15 minutes ago)
Dylan, I think so it is titled local services and under my location it states this device. Is this the correct information you needed?
Hi James,
I think @dylan missed your reply. I also see that you started a new thread. Let's continue here, I'll close the new one.
On your iPad, in Settings go to Privacy and you want to scroll down to Local Network (not Location Services).
In Local Network you should see Roon. Make sure it's selected or On. See here: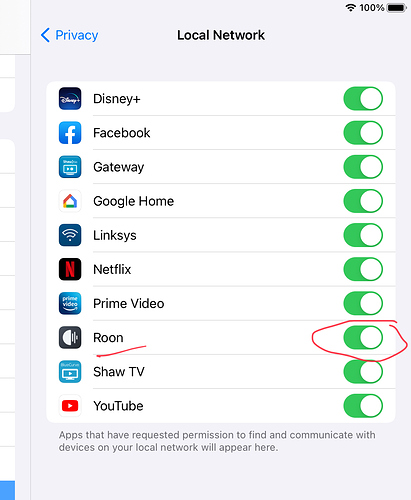 Let us know if that works.
Cheers, Greg
Thanks! I am glad it was an easy and simple fix.
All the best, Jim
This topic was automatically closed 36 hours after the last reply. New replies are no longer allowed.