Core Machine (Operating system/System info/Roon build number)
Windows 10 / AMD Ryzen 7 PRO 3700U w/ Radeon Vega Mobile Gfx / Roon Version 1.7 (build 528) stable (64 bit)
Network Details (Including networking gear model/manufacturer and if on WiFi/Ethernet)
Tri-Band (Dual 5GHz + Single 2.4GHz) Gigabit Router, Asus RT-AC5300, WiFi
Audio Devices (Specify what device you're using and its connection type - USB/HDMI/etc.)
1 X Laptop speaker
1 X Bose USB speakers
1 X KEF LSX speakers
9 X Sonos speakers
1 X USB desktop amplifier for headphones
Description Of Issue
The issue is that I have just installed Roon today and while Roon can identify all the speakers in my system, but is unable to play on all of them.
It cannot play music on my Sonos speakers, my desktop USB speakers or on my KEF LSX system, but can play music on my Laptop's speakers and on my desktop amp for my headphones.
When instructions are given to Roon to play a particular song, it always accepts the instruction, but :
(1) it will say that "nothing is playing" and the play bar does not move past 0%; or
(2) it says it is playing a song but the play bar does not move at all and it then tells me that "Roon lost control of the audio device"; or
(3) the volume is at 0 and when I increase it, Roon immediately notifies me that it has lost control of the device.
Pictures are provided below: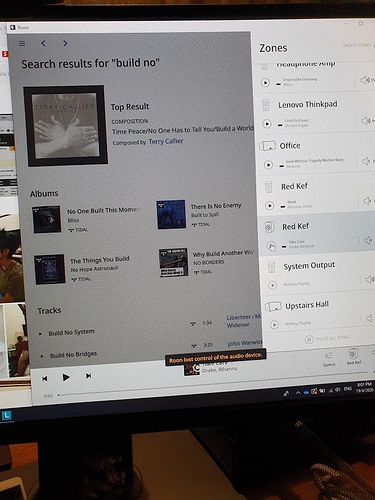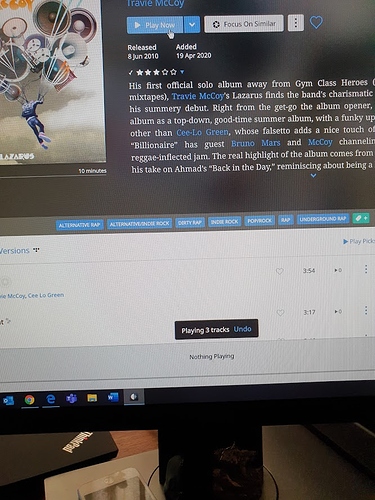 I have installed and reinstalled Roon several times now, and fiddled with the settings, each time to no avail. Please assist me to resolve this issue. I am at my wits end and look forward to receiving your assistance.